Last Updated on March 30, 2023 by Shane
The Verdict
If you want a tool that can convert your text into videos super fast and also want a powerful video editing tool with a vast library of templates, Invideo is the one for you.
Invideo's advanced AI-powered features, like text-to-video and collaboration tools, make it a highly efficient and convenient video creation tool for marketers, social media managers, and content creators.
On the other hand, if you think you don't need a text-to-video convertor but an all-in-one video-making platform with many small useful features, Veed is the better choice.
It provides tools like automatic subtitles, translation creation, screen recording, podcast recording, AI image generator, audio editor, screen recorder, text-to-speech, and many more.
Both of them are powerful tools. Carefully evaluate your needs, budget, and desired features before choosing the platform that suits you the best.
Disclosure: This page contains affiliate links. If you click through and purchase an item, we may earn a commission which will help us in creating more valuable content for you. Please check our terms of service for more details.
We all know that in today's world, video editing has become an essential tool for content creators and businesses.
However, with so many video editing software options available, it can be challenging to decide which one to use.
In this article, Invideo Vs VEED , I'll be comparing the two popular AI-powered video editing software to help you make the right decision and pick the right tool.
I'll be talking about the most important features, ease of use, media & assets, pricing, customer support, tutorials and aesthetics & design quality of the two tools.
Let's get it on!
Comparison Table – Invideo Vs VEED
| | | |
| --- | --- | --- |
| | Invideo | VEED |
| Overall rating | | |
| Ease of use | Very easy | Very easy |
| Subscription | Monthly, yearly & lifetime | Monthly & yearly |
| Free trial | Yes (limited access) | Yes (limited access) |
| Refund | 30 days money back guaranty | No |
| 2D Animation | Yes (basic animations) | Yes (basic animations) |
| 3D Animation | No | No |
| Best for | Editing and creating videos, turning text into video and team collaboration | Turning text into video, articles to video, video transcription, and drag-and-drop video making |
| Compatibility | Windows, MAC, iPhone & Android | Windows & MAC |
| Price | $15 to $30 per month | $18 to $59 per month |
| Recommended | Yes, if you need text-to-video feature more | Yes, if you need video transcription & subtitles more |
| Website | www.invideo.io | www.veed.io |
Invideo – A Brief Overview
Invideo is an AI-powered cloud-based video-making platform which is super easy to use.
It doesn't require any prior video editing experience to start using, making it a great choice for both beginners and professionals.
The key features of Invideo are its text-to-video convertor and extensive library of pre-built video templates that make the video-making process crazy fast.
It also offers a mobile app where you can edit or create videos on the go.
These templates cover a wide range of categories, including social media, marketing, explanation, education, entertainment and more.
It provides a gigantic library of over 5000 custom-built templates and a media library featuring more than 8 million high-quality images and videos.
This makes it easy to find the perfect assets for your video without having to search on the web for hours.
These templates can be easily customized to suit your specific needs, allowing you to add your own branding, text, and media to create a unique and personalized video.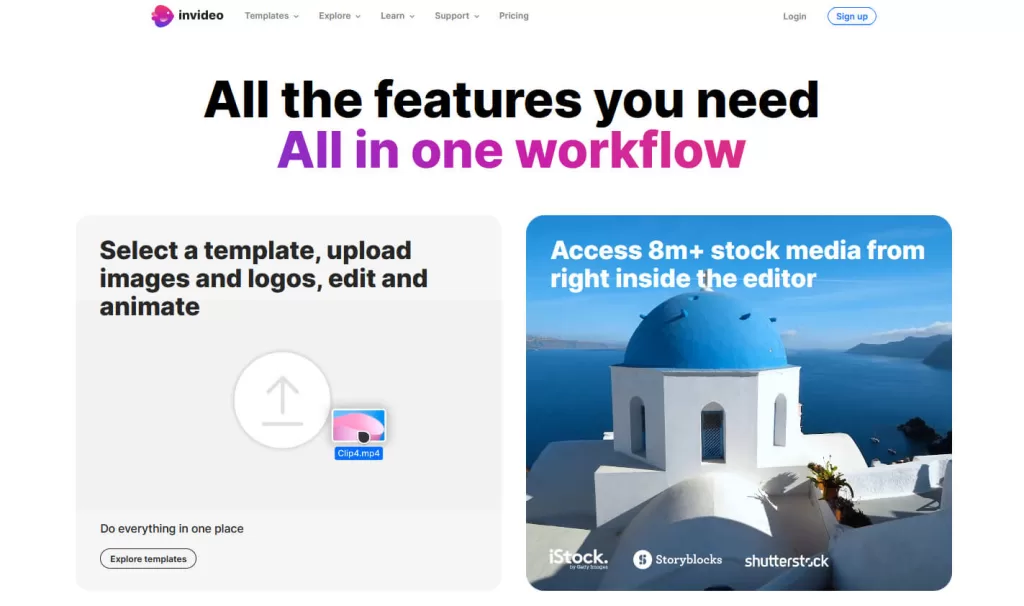 With its text-to-video technology feature, you can simply type in a script or some text, and Invideo will automatically generate a video based on that text.
This is a game-changer for anyone looking to create videos quickly and efficiently.
Besides its robust editing tools, such as trimming, cropping, resizing, color adjustment, voice-over recording, and music integration, Invideo also provides collaboration and sharing tools.
It enables multiple users to work together on projects and share files, making the video creation process more efficient.
In fact, Invideo has many other fascinating features and benefits that might surprise you.
Let's dig deeper into this incredible tool and get to know more.
VEED– A Brief Overview
VEED's extensive list of features and tools makes it a powerful video-making tool for content creators, marketers and business owners.
This AI-powered easy video-making software has become quite popular in recent years.
Veed is also a powerful cloud-based video-making tool, which you can access from anywhere with an internet connection.
It can transcribe your videos and convert them into text quickly. This tool can transcribe videos in multiple languages like Chinese, Japanese, French, Spanish, etc.
The software is designed to be very user-friendly, with all the tools and features you need to create high-quality videos located in easily accessible places.
Like Invideo, it also offers a range of templates and other assets that you can use to create different types of videos, such as social media posts, product demos, explainer videos, etc.
Veed also offers an extensive range of tools and effects that you can use to enhance your videos.
Some of them are silence & noise removal, auto-resizing, subtitles and translations in multiple languages, meeting and communication, and so forth.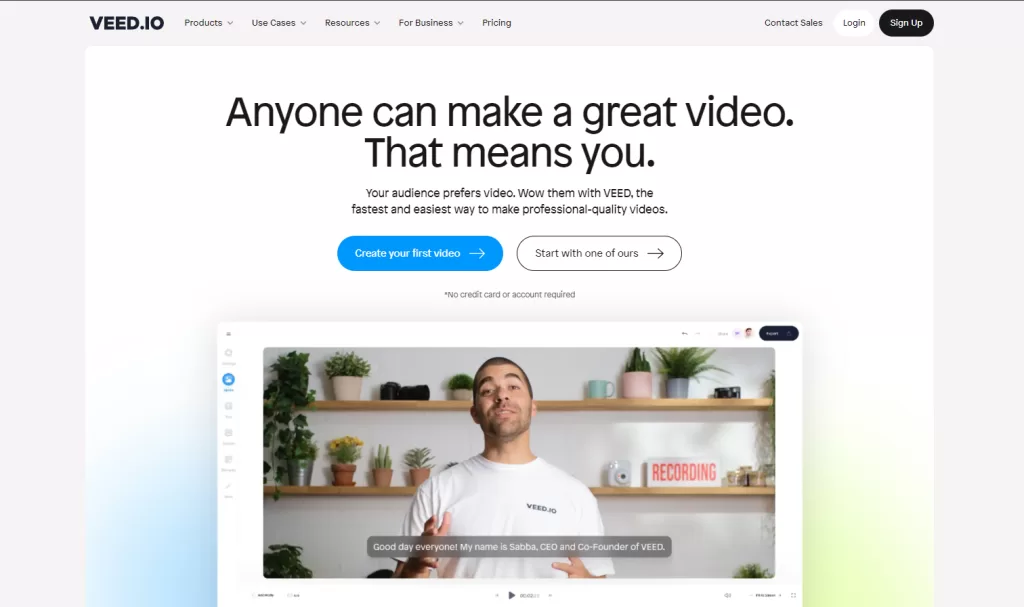 In addition to these features, Veed also offers live collaboration features that make it easy to work with others on your video projects.
You can share your video projects with your team or clients, give them access to specific parts of the project, and even collaborate on editing and revisions in real-time.
Its user-friendly interface and collaboration features make it a great option for individuals and teams who need to create videos quickly and efficiently.
A Brief Comparison
While both tools have their own strengths and weaknesses, there are some key differences to consider when deciding which one to use.
The main difference between these two softwares is that InVideo can convert your texts into videos superfast, but VEED can't.
On the other hand, VEED can transcribe your videos and convert them into text, but InVideo can't.
There are some minor differences, but this is the most notable and important one.
Both InVideo and Veed offer some similar capabilities, such as easy video editing, trimming, voice recording, color filters, etc.
When it comes to ease of use, both of them are user-friendly and intuitive, with drag-and-drop interfaces that make them easy to add and rearrange elements in the video.
In terms of the media library and assets, InVideo has a larger library of stock footage, image, music, and sound effects available.
In contrast, Veed's library is smaller compared to InVideo.
InVideo's price is a little lower than VEED's price.
Both Invideo and Veed offer a range of features that make them powerful tools and easy to use.
The choice between the two eventually depends on your specific needs and preferences.
1. Basic Features
These two popular AI-powered video-making softwares offer a range of features to help you create professional-looking videos quickly and easily.
InVideo is one of the most popular AI-powered software that can convert text to videos with a few clicks. It's mostly known for this feature.
Besides this feature, InVideo has a powerful video editing tool which allows you to edit videos easily at a super fast speed.
Its team collaboration tool is one of the features they are proud of. It allows you to collaborate with your team or clients and give or receive feedback.
It offers over 5000 professionally designed video templates and more than 8 million media and other assets. You can find templates for any use case.
You can search by platform, industry or content type and customize a template based on your brand color and design using simple drag-drop-replace actions.
Like InVideo, VEED is also an AI-powered video-making and editing software to make the video-making process quick and easy.
VEED also has a powerful video editor with features like auto subtitle generator, video transcriptor, background remover, live collaboration, auto-resizing, screen recorder, live streamer, professionally designed templates, and more.
It has over 150 small tools in total, but some of them have little difference from one another.
Even though these two softwares look similar, there are some features that set them apart from each other.

One of the main differentiating features of Invideo from VEED is the text-to-video converter.
There are a few more features that make it different from VEED, like a massive library of media and assets and premium professional-looking pre-built templates.
On the other side, VEED's differentiating features from InVideo, are its automatic video-to-text transcriber, live streaming software, music visualizer, video progress bar, subtitles generator in different languages, video podcast and more.
VEED also offers a real-time collaboration feature that allows multiple users to work on the same video simultaneously, making it a great choice for team projects.
InVideo offers powerful, easy-to-use video editing tools that allow you to edit and create videos on a professional level.
It has all the basic features of a video editing tool like crop, trim, transitions, text, stickers, color overlays, etc. and some other powerful advanced features.
Those advanced features are motion graphics and animation effects, voiceover recorder, team collaboration tool, templates, collages, pre-made color palettes, masking, etc.
Similarly, VEED also focuses on simplicity and ease of use, with a straightforward interface and basic editing tools like trimming, cropping, filters, video effects, adding text overlays, adjusting frame rate, etc.
However, it does offer some unique features, like video progress bar, music visualizer, auto-subtitle, video transcriber, live streamer, webcam recorder, and more.
Both Invideo and VEED can be used to create a wide range of video content, from social media posts and advertisements to tutorial videos and product demos.
But, Invideo's wider range of templates and media library makes it a better choice for creating high-quality marketing videos and presentations faster.
Winner
Both are excellent AI-powered video-making tools that offer different features and functionality to suit different needs.
While Invideo is better suited for converting text to videos in a quick and easy way, VEED's auto video transcribe and subtitle features make it a great choice for creating quick and easy social media content.
For these reasons, this part of the battle will be a tie.
2. Ease of Use
Glorify is easy to use. It is built to be used by anyone who doesn't have any experience in design before.
Its clean and minimal user interface design makes it look easy to use and not overwhelm the users.
Let's talk about its interface design in more detail. It consists of four main sections – the canvas, artboard, toolbar and edit and layers panel.
Artboard is placed at the center of the interface. This is a small section on the canvas where your final design will be.
The largest part at the center of the interface is its canvas.
It is a free space where you can place your design elements, play around with them and get creative.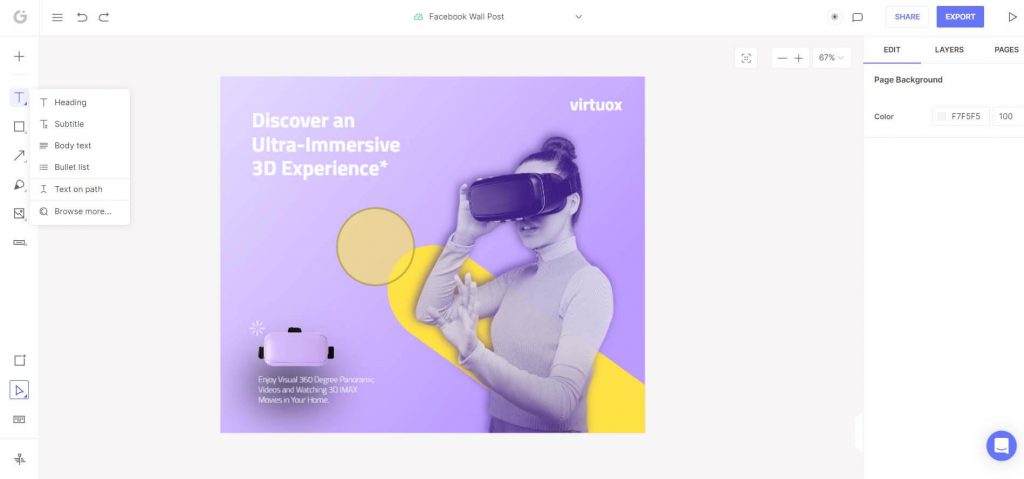 At the left vertical corner of the interface, there's the toolbar. Here, you'll find all the crucial tools you need to create your designs.
The tools are shown in just icons to make the interface look minimal. There's no text to tell you which tools they are.
Then how will you know about the tools and how to use them?
When you hover your mouse cursor on the icons, you'll see them with the text showing you which tools they are.
The right vertical cornet of the interface is where the edit and layers panel is.
This panel will let you edit the elements you have selected, like changing colors, filters, blur, effects, color overlay, contrast, brightness, and so on.
Compared to Canva, Glorify is a little more complex for beginners. That's because Glorify is a bit more advanced tool than Canva.
Canva is arguably the best easy-to-use graphic design software out there.
It is one of the best tools to design almost any kind of graphics fast and easily.
Unlike Glorify, it allows you to design almost anything related to graphics.
From logos to websites, brochures to business cards, posters to flyers, infographics to graphs, presentations to whiteboards, social media posts to videos and more.
Not just that, it also allows you to collaborate with your team and give comments, feedback, approval, etc., within the software.
Compared to Canva, Glorify is a little more complex for beginners. That's because Glorify is a bit more advanced tool than Canva.
Canva is arguably the best easy-to-use graphic design software out there.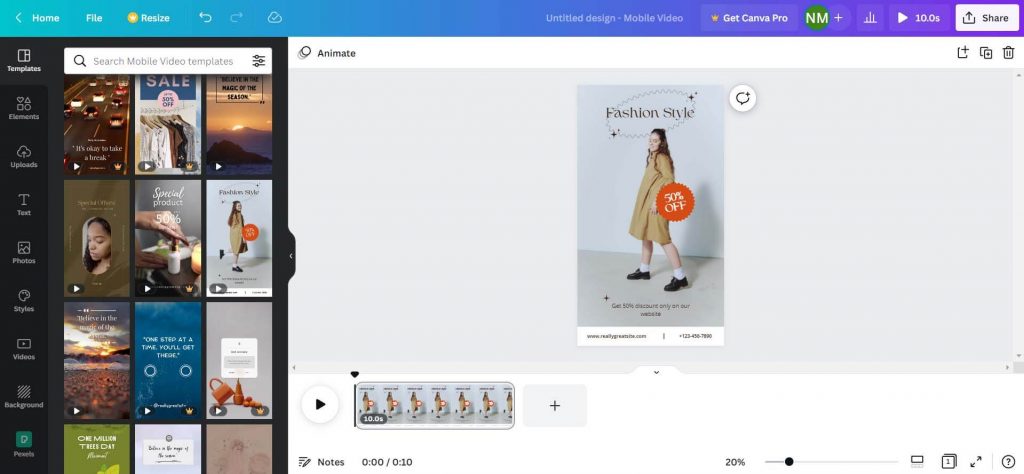 It is super beginners friendly and has only the basic features to make it less complex for its users.
Their goal is to make it as user-friendly as possible.
Even though it has a large number of features, its user interface is designed to be as simple as possible.
It is super clean and straightforward.
Canva's user interface has four crucial parts – Canvas or artboard, toolbar, tools preview panel, and timeline.
The canvas or artboard occupies the largest part of the interface. It's the section where you add all the elements and design.
The toolbar is at the left corner of the interface, and it's placed vertically.
It has all the essential tools you need to use.
The tools are placed as icons with text. The icons are Templates, Elements, Uploads, Text, Photos, Styles, Videos, Backgrounds, Audio and More.
The tools preview panel is placed vertically just next to the toolbar. It shows the preview of the tool you have selected on the toolbar.
The horizontal bottom of the canvas or artboard is where the timeline is placed.
You can see this only when you are working with any kind of videos.
This shows the scenes of the videos you are making and makes it easy to trim or extend the footage.
Winner
Even though Glorify is easy to use and is designed to be user-friendly, it is a bit more complex compared to Canva.
It's because Glorify is a little more advanced and flexible than Canva.
Hence the winner in the part of the battle is Canva.
3. Media Library and Assets
Their YouTube channel is the only primary place to find tutorials for Glorify.
They have shared all the necessary tutorials, tricks and tips, updates and other information there to help their users.
They don't have any kind of tutorials on their website.
They have a blog as well where you can find all the content related to design, marketing, eCommerce, social media, updates, etc. and learn about them.
On the contrary, Canva's tutorials are almost everywhere. They have listed all the essential and common tutorials on their website.
Their Design School is the webpage on their website where you can find almost all the tutorials.
They also have free courses listed on this page if you want to master Canva.
The courses are on topics like Canva Pro for Nonprofits, Print Advertising, Canva Design Skills for Students, Typography & Layout, Creating a Logo, Canva on Your Mobile, Presentation to Impress From the Experts, Graphic Design Basics, and many more.
Not just these, they also have YouTube channels, a blog, events and a Facebook Group.
You can find other tutorials you can't find on their website on their YouTube channel.
They share all the latest updates, short and long tutorials, interviews and more on the channel.
Their blog posts will keep you updated and educate you about marketing, branding, business, design, videos, and more.
Canva's event is the thing I like the most about what they do to educate their users.
They organize online events every month on topics like "How to design your brand, logo, personality and more", "Foundations of graphic design", "Canva essential teams training", "Designer essentials – Canva for Teams workshop", etc.
They do so many things to help and stay engaged with their users.
Winner
Canva is doing so much more than Glorify to educate, update and help its users.
They have a dedicated tutorial webpage on their website, online free courses and online events to educate and help their users, which Glorify don't do.
For that reason, Canva will be the winner on this part.
4. Pricing
The pricing structure of Glorify is pretty simple and straightforward. It has technically 3 plans – Free, Pro, and Business.
The Free plan costs $0, as the name says it. But it comes with limited access.
Here, you'll have access to 3 users account, 1 workspace, 10 background removals per month, 5 downloads a month, 5 projects, and unlimited guests.
The next one, the Pro plan, costs $29.99 a month only if you pay annually. Which is $359.91 a year.
However, if you pay monthly, it will cost you $39.99 a month, which is $479.88 a year. You'll be saving 25% by paying annually.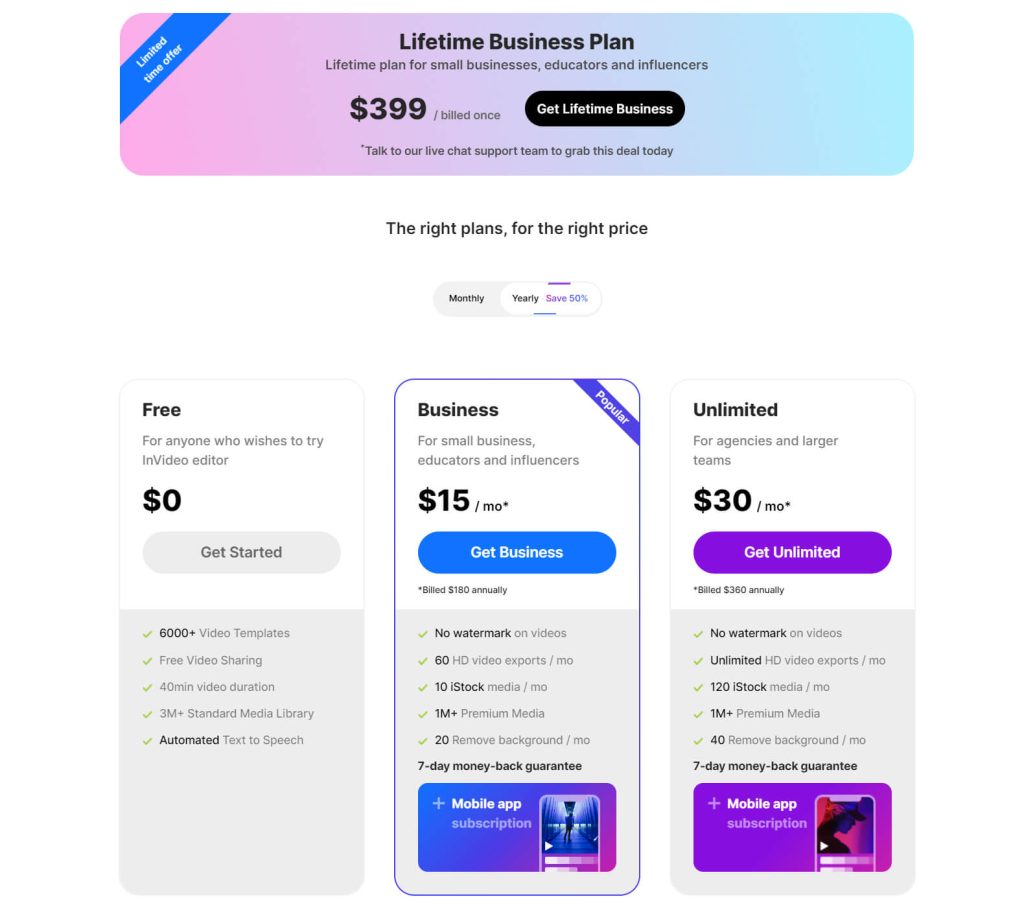 In this plan, 5 different users are allowed on a single account.
That means if you divide the total price by 5 users, it just costs $5.99 per user for the annual payment plan.
And for the monthly payment plan, the cost is $7.99 per user.
Finally, the Business plan costs $74.99 a month only if you pay annually; that's $899.91/year.
If you pay monthly, the cost increases to $99.99 a month, which is $1199.88/year.
10 users are allowed on a single account in this plan.
This makes the cost per user $7.49 a month if you pay annually and $9.99 per user if you pay monthly.
Here, you'll get access to 10 users, unlimited workspaces, unlimited BG removals, unlimited downloads, unlimited projects, unlimited guests and unlimited designs.
On the other hand, Canva has only three pricing plan options. They are the Canva Free plan, the Canva Pro plan, and the Canva for Teams plan.
The Canva Free plan allows access to more than 250,000 free templates, 100+ design types (social media posts, presentations, letters, brochures, flyers, business cards, and more), more than 1 million free photos and graphics, wide range of printable products to design and get delivered to your doorstep, 5GB of cloud storage and more.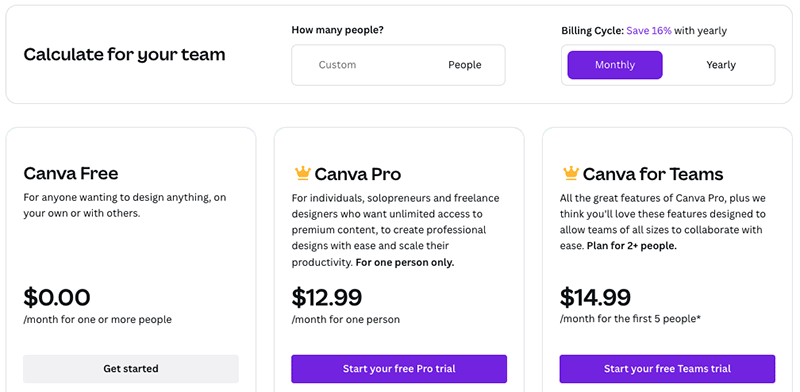 The next plan, Canva Pro, costs $12.99 per month, which is $155.88 a year. If you make the payment at once for a year, you can save 16%.
And the third one, Canva for Teams, is $14.99 a month, which is $179.88 a year. You can again save 16% if you make the full payment of a year at once.
Winner
It is clear that the cost of Canva is more affordable than Glorify's.
Considering the features and values Canva provides, the pricing is more reasonable than Glorify.
Hence the winner is Canva for this part.
5. Customer Support and Tutorials
Glorify's customer support is not very good. They have only one way to contact them.
The chat on their website, which is a chatbot, actually.
When I raised a query and explained my problem on their chat, they wrote back they would email me in a while.
They emailed me after around 13 hours.
They could have done more than this.
On the other hand, unlike Glorify, Canva has listed all the FAQs and common queries on a dedicated page on their website.
If you can't find your queries on the list, you can contact them through their 24/7 email customer support.
They claimed that they would get back to your queries within 24 hours. It might also take about a week, depending on the urgency of your queries.
Winner
Canva has provided more options to its users to resolve their queries and issues than Glorify.
Also, Canva's customer service writes back to queries and tries to resolve them faster than Glorify's.
Therefore, the winner of this part of the battle is Canva.
6. Aesthetic and Design Quality
Glorify's design quality of the templates and other assets looks premium and very professional, but it doesn't have a feature to create videos.
Similar to Canva, one of Glorify's co-founders is a designer.
For that reason, it has good taste in designs.
The design quality of Canva is one of the best among its competitors.
The design quality of the templates for the videos and graphics is professionally designed, and they all look premium.
Some examples of designs made by using Glorify and Canva are listed below.
a. Designs created in Glorify
b. Videos created in Canva
Winner
Who's the winner, then?
The quality of design of the two softwares is equally good. They all look professional and well-designed.
They both take design very seriously and understand the importance of design for businesses.
Since both Glorify and Canva are equally excellent in design quality, the result of this part of the battle will be a tie.
Final Thoughts
Even though Glorify is a great software, Canva has many more features than Glorify, like logo creator, website builder, video maker, and many more.
Since Glorify is a little more advanced software than Canva, it is a bit complex and takes a little longer to understand all the tools and features.
Canva provides more ways to educate and help its users than Glorify. Unlike Glorify, they have tutorials on their website and YouTube both, free online courses and free online events.
Talking about the cost of the two, Canva is more affordable than Glorify. Canva has more value for its price than Glorify.
Canva's users have multiple ways to resolve their issues and queries; however, Glorify has only a chatbot.
The design quality of both Canva and Glorify is exceptional. They both have equally valued the importance of design.
So which one is the better one for you?
Use Glorify if
You want just graphics but not videos
You want a powerful and high quality graphic designing tool
You have a team who's going to be using the tool for designing graphics
You don't care about the price and want a tool that can design just graphics
You want a little more advanced designing tool than Canva but also easy to use
Use Canva if
You want a premium and high-quality all-in-one design software which is easy to use
You need videos for your business or projects more than just static designs
You want a reasonable and affordable yet high-quality design tool
You want a team collaboration feature to give feedback, review, approval, etc.
Lights, Camera, Action! Join Our Video Tribe.
Stay updated with the latest tools and updates. We don't spam.
That's a wrap of this epic battle Glorify vs Canva. Get the right tool and keep creating.
If you are interested in animated videos for businesses, then you should check out this long list of the best animated marketing videos I have curated, "79 Best Examples of Animated Marketing Videos".
You can also check out these comparisons and reviews
Let me know what you think about this comparison in the comment, and don't forget to subscribe to our newsletter to stay updated about new tools and updates.
Happy Creating!