Last Updated on March 6, 2023 by Shane
The Verdict
Both of them are powerful softwares in their own way. Animoto is best for creating regular videos (not animated) easily; on the other hand, Renderforest is best for making animated videos. You can also create regular videos on Rendeforest.
The best feature that I really like about Renderforest is that, other than just videos, it allows you to create logos, websites, social media posts and mockups. Unlike Renderforest, Animoto focuses just on allowing everyone to create videos easily.
Choose Animoto if you don't want anything but to create only regular videos in an easy and quick way. And if you need to create animated videos, logos, websites, social media posts or mockups other than just regular videos, then Rederforest is perfect.
Disclosure: This page contains affiliate links. If you click through and purchase an item, we may earn a commission which will help us in creating more valuable content for you. Please check our terms of service for more details.
These two softwares are slightly different from each other. Renderforest can create more than just videos. You can create logos, websites, graphics and mockups for your personal use or your business. But does this make Animoto a bad tool to use?
In this battle Animoto Vs Renderforest, I have compared these two powerful softwares in this article to find this out.
As we all know, videos play a crucial role in staying updated and engaged with your audience on social media and other platforms these days. In this comparison of Animoto and Renderforent, you will find out which one is the best one for you according to your requirements.
Let's get it on!
Comparison Table – Animoto Vs Renderforest
Animoto
Renderforest
Overall rating
Ease of use
Very easy
Very easy
Subscription
Monthly & yearly
Monthly & yearly
Free trial
Yes
Yes
Best for
Both professionals and beginners
Beginners only
Compatibility
Windows & MAC
Windows & MAC
Refund
No
No
Price
$99 to $299 per year
(There's $67 limited-time offer)
$240 to $480 per year
& $39 to $69 per month
Recommended
Yes, if you need it just to make regular videos (not animated)
Yes, if you want a software that can create more than just videos
Website
www.animoto.com
www.renderforest.com
Animoto and Renderforest – What do they do?
These two cloud-based softwares are easy-to-use video-making softwares. They allow you to create videos in just a few minutes with easy drag and drop features.
Animoto is focused only on creating regular videos, while Renderforest allows you to work on videos, animation, design and presentations. These are the softwares that can be used by anyone from beginners to professionals to make quick videos.
Animoto – A Brief Overview
Animoto is one of the popular easy video-creating software. It allows you to create videos in a few minutes. Its large library of pre-built templates makes it possible to create the videos quickly.
You can create videos for your social media ads, posts and stories. It is best for creating explainer, promotional, and educational videos. One of the best features Animoto is its extensive library of royalty-free stock images, videos and music.
You can create videos that can be used for marketing, ads, how-to, slideshow, social media, promo, and birthday videos. Animoto Social Media Video Marketing Community is their community on Facebook where you can share your stories, issues, etc. and discuss them with the member.
Renderforest – A Brief Overview
Renderforest is a company based in Armenia. They have claimed that more than 30 million projects were already created using this software. There are more than 10 million users already and 300000 monthly signups.
You can create so much more than just videos with Renderforest. The best thing about this software is that it allows you to easily create regular videos, animated videos, logos, websites, graphics, presentations and mockups.
It is mostly known for its high-quality animated video. This software is used by marketers, startups, SMEs, enterprises, education, musicians, freelancers, YouTubers and more.
There are mobile apps for both iOS and Android on App Store and Playstore, respectively. Which allows you to create videos using your phone as well.
Animoto Vs Renderforest– A Brief Comparison
Animoto is designed for creating just regular videos, while Renderforest is for creating regular videos, animated videos, logos, websites, graphics, presentations and mockups.
Both have their own respective marketplaces; however, I will shed the light on their features to find out which one is better. This comparison will not be like comparing an apple to an apple, but let's find out which one is the best one for you according to your needs.
1. Basic Features
Animoto allows you to create videos quick and easy. It provides more than 200 pre-built video templates. You can choose any dimension you want from the template. Videos of any aspect ratio can be created easily, like social media posts, Instagram stories, Youtube videos, etc. You can use the pre-built templates or start from scratch to create the videos.
The library contains the templates to make videos for about us, Amazon promo, celebrations, education, event, explainer, holiday, motivational, narrative, product or service promotion, real estate, slides, teaser, testimonials, tutorials, etc. If you upgrade to its pro-plus package, you'll have access to millions of royalty-free stock photos and videos from Getty Images.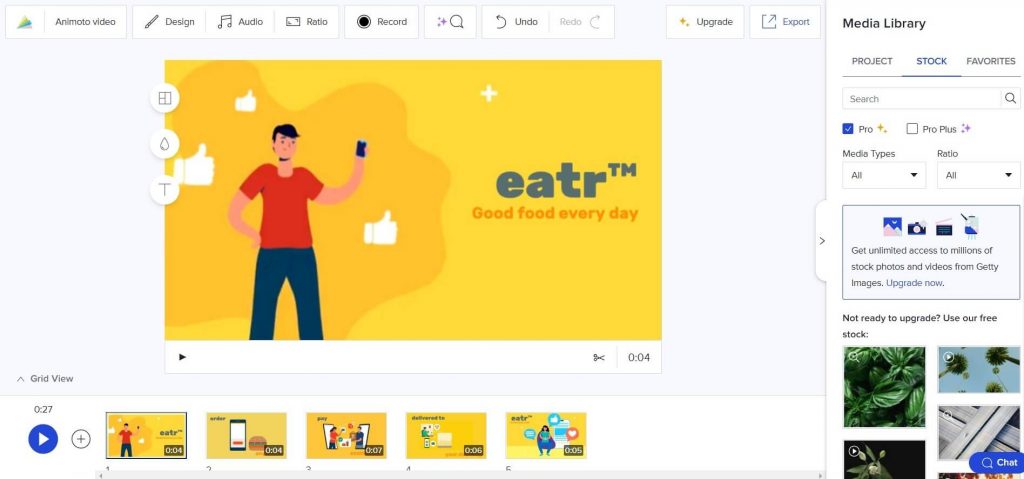 Animoto has a simple and clean interface which is easy to use. So what are the main features that make it a powerful tool for making videos?
Some of the critical features of Animoto are
Video Commenting Tool – You can comment and give feedback from anywhere using any device with this tool
Screen Recorder – You can record the screen of your computer using this feature
Photo Video Maker – Turn your photos into exciting videos easily using this feature
Music Library – You'll have access to thousands of royalty-free stock music to use in your videos
Online Video Editor – Since its a cloud-based software, you can create videos online without installing any software
Templates – It has more than 230 video templates to choose from
Video Trimming – Croping and trimming your videos will be very easy
Stock Library – You will have access to millions of photos and videos from its extensive library
iOS – Using their iOS app, you can use your iPhone to create eye-catching videos from anywhere you want
On the other hand, Renderforest has a few different features than Animoto. You'll have access to almost all the requirements for digital branding. It has nearly all the design elements and features to solve your branding problems. It allows you to create videos, websites, logos, mockups and designs. Aso you can covert your text into voice using this software.
This powerful all-in-one software allows you to create various types of animated and regular videos. You can create videos of different aspect ratios like 16:9, 1:1 and 9:16 according to your requirements. Types of videos you can create are
Animated explainer videos
Animated 3D videos
Animated product or service promotional
Animated YouTube videos
Animated food and hospitality videos
YouTube intros
3D logo and other logo reveals
Slide show videos for corporate, personal and educational
Presentation videos
Music visualization or lyrics videos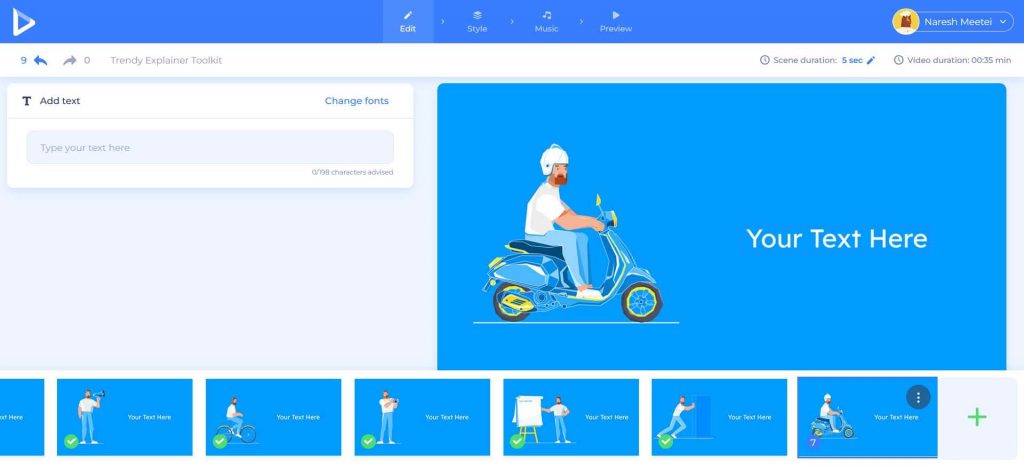 Renderforest makes building websites easy and fast. You can create websites in a few minutes using their pre-built templates. It allows you to build websites for your business, personal use, events, non-profit, portfolio or resume.
You can build the website you want in three simple and quick steps
Step 1: Choose Your Template – You can pick the design you like the most from its 100+ templates.
Step 2: Add Your Content – The content of the templates is already professionally written. However, if you want to use your own content, its easy-to-use content editor allows you to do that.
Step 3: Publish Your Website – Whenever you think the website is ready to launch, you can publish it and make it up and running.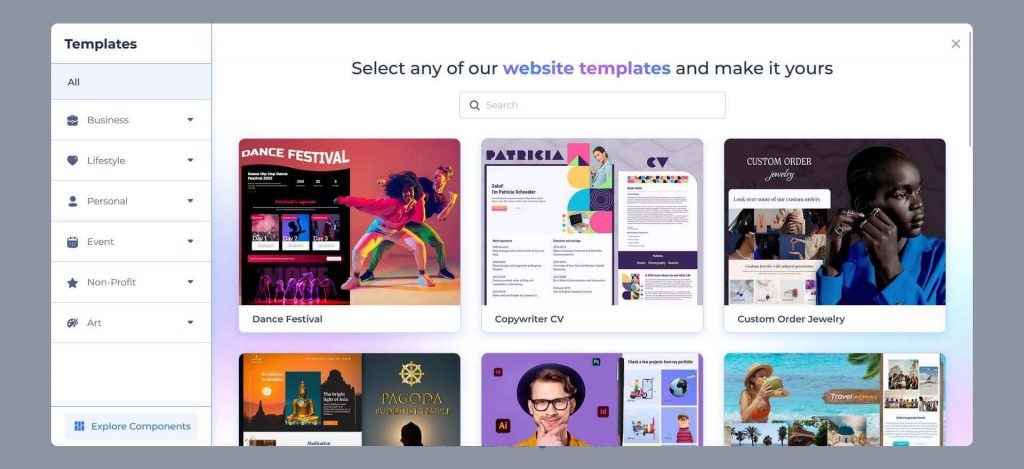 Its AI-based logo maker lets you create logos in a few seconds. You can just type your business name and tagline (optional) and describe your logo and business in 1 or 2 sentences. The AI will create the logo according to it.
Mockups are static representations of products with logos, design and text, showing users and stakeholders how they may look and be used. Using Renderforest, you can create mockups using your logos and designs quick and easy. You'll get access to the mockups of t-shirts, hoodies, iPhones, desktops, billboards, mugs, packaging, food and beverage, magazines, books, wall designs, frames and more.
Its graphic maker tool will make designing easy and quick for your business and personal projects. It allows you to design for social media, prints and presentations using its customizable pre-built templates. You can use it to create your Facebook covers and posts, Instagram posts and stories, YouTube thumbnails, posters, flyers, book covers, presentations and so forth.
Winner
Since it allows you to create multiple things more than just videos, the winner in the basic features section will be Renderforest. Even though Animoto is a very powerful software for creating regular videos, it doesn't allow you to create more than that. On the contrary, Renderforest can create animated 2D and 3D videos, websites, logos, mockups and graphics other than just regular videos.
2. Ease of Use
Animoto is almost effortless to use it. Its simple and minimal user interface makes it easy to use. You can create a video in just a few minutes. It is one of the easiest video-making softwares on the market.
Renderforest is equally easy to use as Animoto. Its user interface is totally different from Animoto. Since it has more features than Animoto, it has separate interfaces for each feature. Even though their user interfaces are drastically different from each other, their main purpose is to make their softwares as easy as possible to use.
Winner
Because both of them are equally easy to use, this section will be a tie. Although Animoto's user interface looks a little cleaner and simpler than Renderforest, both are very easy to use. Even anyone who doesn't know anything about video making will be able to create videos using them.
3. Tutorials
Animoto has all the detailed tutorial videos on their YouTube channel. If you don't like video tutorials, you can go to their blog or support section and look for solutions. Its Animoto Education Center has all the required tutorials to make videos. This means that if you get stuck with any difficulties, it is easy to find the solution. Their blog posts have useful tips, tricks, guides, and ideas about video marketing, video making, business, etc. I personally like the Video Ideas section the most. It provides so much information and ideas about videos and marketing.
The YouTube channel of Renderforest also has all the necessary tutorial videos. Like Animoto, its support and bog sections provide many tutorials and helpful information. Its blog posts cover almost all the valuable information on Video Editing, YouTube, Animation Tips, Branding, Marketing, Design, Website Tips, etc.
Winner
Both Animoto and Rederforest have enough tutorials available on their own websites and on YouTube. This makes the two softwares equally strong in this particular section. It's a tie again.
4. Pricing
Animoto's pricing structure has four packages which are Free, Basic, Professional and Professional Plus.
On Free, you can create unlimited videos; however, Animito's logo will be watermarked on the videos. You'll have access to all the standard features, which include standard quality video (720p), 50 music tracks, 3 standard fonts, 30 color swatches, unlimited social sharing, available on desktop and iOS and screen recording.
The Basic package costs $8, where you'll get access to the standard features with no Animoto branding on your videos, high-quality video (HD 1080p) and unlimited downloads.
The most popular one Professional package costs $15. Here, you'll get access to everything in the Basic package, add your logo and colors, 1 million+ licensed stock photos & videos from Getty Images, 3,000 licensed music tracks, Voice-over, 1 saved brand, 40 professional fonts, and high-quality video (HD 1080p).
The fourth package is called Professional Plus, and it costs $39. This package will allow access to everything in the Professional Package, accounts for up to 3 users, license to resell to businesses, 30-minute consultation with a video expert, collect time-stamped comments, multiple saved brands, upload your own fonts, and 100 million+ Premium licensed photos & videos from Getty Images.
These prices are for annual payments. If you pay monthly, it changes to $16 for Basic, $29 for Professional and $79 for Professional Plus.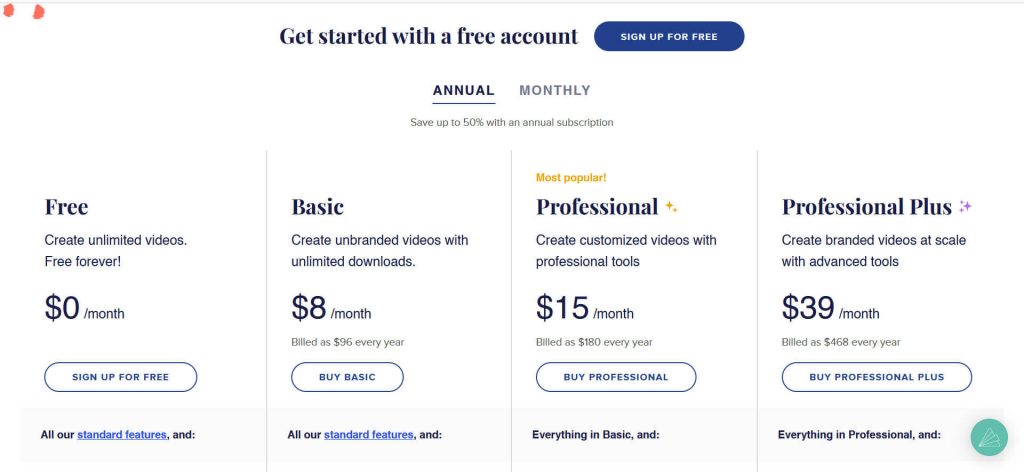 Rederforest's pricing structure is kind of similar to Animoto's; however, it costs a little higher. They have more robust features than Animoto, though. Their packages are named as Free, Lite, Pro and Business.
The second one, the Lite package costs $9.99. It provides access to 10 GB of storage, unlimited 720p videos, one premium website on your own domain, full access to 1M+ premium templates, mockups, scenes, and presets, 100K+ stock footage, music, and photos, and design and export logos in vector SVG and PNG.
The Pro package, which is the most popular one, is priced at $19.99. In this package, you'll have access to everything in the Lite, 30 GB storage, unlimited HD 1080p videos, a full catalog of 5M+ stock footage, music, and photos, branding guidelines for logos and advanced website control and editing tools.
The last and biggest package is called the Business package, which is priced at $24.99. It has everything in the Pro package, 50 GB storage per seat, unlimited up to 4K videos, one premium website on your own domain (per seat), a dedicated account manager, team management, custom watermarks and multiple branding kits and reseller license.
These prices increase a little bit if you pay monthly. The Lite changes to $14.99, the Pro to $29.99 and the Business to $34.99. This means you save some money if you pay for a year at once.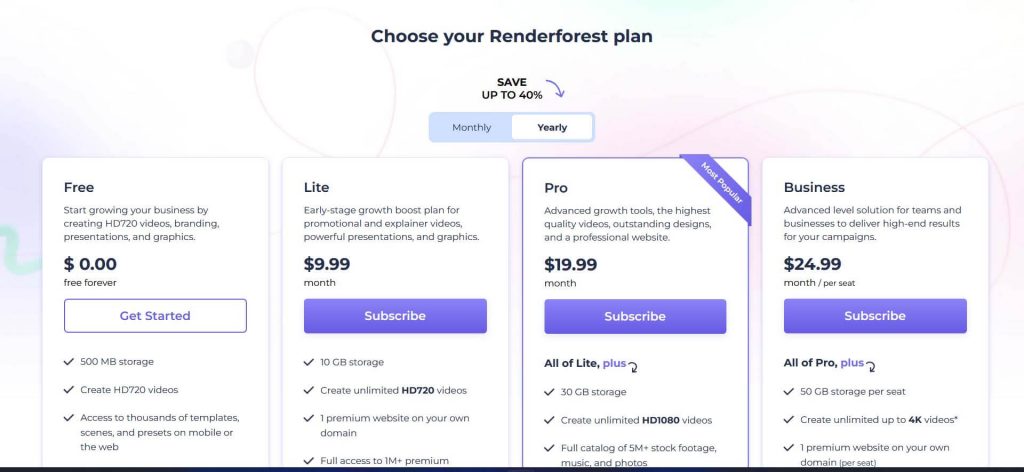 What if you just want to create videos? You can also subscribe just for that feature by paying a lesser amount. If you want to create only website, it will charge $9.99 per month. If you want to make only videos, it's $19.99 for HD 1080p and $39.99 for 4k. For the logo, it's $19.99 and $5.99 for the mockup. You can create social media posts for free using this.
Winner
The winner in this part is Renderforest because the pricing of the two is almost the same; however, it has more features than Animoto.
5. Customer Support
Animoto has a long list of possible queries which are answered by them already. Even if you can't find yours in the list, you can email them and ask anything. This list contains FAQs and queries about subscriptions, making videos and saving and sharing.
They have a customer support team that replies during office hours Monday – Friday. This means they don't provide 24×7 customer support. They also don't have chat support.
Similarly, Renderforest also has some common queries and questions listed on its website's support page. The queries and questions are about the introduction of Renderforest, subscription and payments, account privacy, creating videos, building a website, making logo, designing graphics and editing mockups.
They have 24×7 email support that replies within 24 hours and solves your issues; however, they don't have chat support.
Winner
Even though both of them have email support and FAQs listed on their websites, Renderforest wins this because of the 24×7 support and the service it provide.
6. Animation and Video Quality
The video quality of Animoto is exceptional. The transitions, text animations, sound effects, music, and templates are high quality. Even though it is not designed for making animated videos, the couple of animated video templates it provides are also pretty good.
On the other hand, Renderforest's quality of videos and animation is one of the best among its competitors. It has the power to create the same videos created with Animoto but not the other way round. That's because Renderforest has many high-quality videos and animation templates.
a. Videos created in Animoto
b. Videos created in Renderforest
Winner
Animato is a compelling and high-quality video-making software; however, it cannot beat Renderforest. This is because it was made just for creating regular videos, not animated ones. Therefore the winner of the section is Renderforest.
Final Thoughts
So which is better, Animoto or Renderforest? Animoto and Renderforest are both very powerful softwares; however, their purposes are slightly different. One focuses just on making regular videos, and the other wants to be an all-in-one software. One can do very few things, and the other allows you to do a whole lot more.
So, which one do you choose? Well, it depends on your needs. If you need just regular videos, Animoto will be good for you. However, if you want more than that at almost the same price, Renderforest is the one for you.
Use Animoto if
You are looking for an easy and quick video-making software
You want to make just regular videos
Your project doesn't need animated videos
You have a minimal budget
Use Renderforest if
You want high quality easy, and quick software that can make more than just regular videos
You want to create regular & animated videos, websites, logos, mockups, and graphics using a single platform
You either run NGO, school, business, or agency
You want to create videos, websites, logos, or graphics for your personal use
You have a budget to invest in your business or yourself
This includes the battle Animoto vs Renderforest. I hope you are now clearer about which one to choose from the two.
If you'd like to dig deeper on Renderforest, you can check out my detailed review of it, "Renderforest Review".
You can also check out more comparisons
Let me know what you think about this comparison in the comment. Your feedbacks help me in improving the quality of the content and help more folks like you. And don't forget to subscribe to our newsletter to stay updated about new tools and updates.
Happy Creating!