Last Updated on March 12, 2023 by Shane
The Verdict
Viddyoze is great for you if you are looking for just a video and animation making tool that is easy to use and not much expensive.
On the other hand, Canva will be perfect for you if you want an all-in-one design software. It's designed for basic video making and designing graphics, logos, presentations, resumes, websites, etc.
In short, Viddyoze is more powerful than Canva in terms of making videos because it's mainly made for making videos.
If you just need basic videos without too much complex editing or animations, you can go for Canva.
Disclosure: This page contains affiliate links. If you click through and purchase an item, we may earn a commission which will help us in creating more valuable content for you. Please check our terms of service for more details.
If you can't decide which one is the right one for you between these two powerful softwares, you're at the right spot.
This article will help you choose the tool that best suits your needs.
In this comparison Viddyoze vs Canva, you will find out all the differences between the two.
You will learn about their features, benefits, ease of use, tutorials, pricing, customer support, and videos and design quality.
Whether you're a professional or just getting started in the world of video production, this comparison guide will help you make an informed decision.
So, let's dive in and explore the world of Viddyoze and Canva!
Comparison Table – Viddyoze vs Canva
Viddyoze
Canva
Overall rating
Ease of use
Very easy
Very easy
Subscription
One-time & yearly
Monthly & yearly
Free trial
Yes ( 7 days free trial)
Yes (free with limited access)
Credit card required for free trial?
Yes
No
Refund
30-day money-back guarantee
No
2D Animation
Yes
Yes
3D Animation
Yes
No
Regular Videos
Yes
Yes
Best for
Animated videos, regular videos, social media videos, marketing videos, educational videos, Logo animation, intros, outros, etc.
Regular videos, social media videos, graphic design, website design, logo design, etc.
Compatibility
Windows & MAC
Windows & MAC
Price
$97 (Individual) one time
$127 (Commercial) one time
$67 (Current offer) one time
$155.88 (Pro) per year
$179.88 (Team) per year
Recommended
Yes, if you need a tool, focus just on making videos
Yes, only if you want just a basic video-making tool with an all-in-one designing tool
Website
www.viddyoze.com
www.canva.com
Viddyoze – A Brief Overview
Vidddyoze is an Artificial Intelligent (AI) powered video and animation making software that allows users to create animations, logo stingers, outros, intros and more with just a few clicks.
It comes with a wide range of customizable templates that can be easily edited to match your brand's style and design.
With this software, you can add or edit your own logos, images, and text to the templates and create videos and animations in just a few minutes.
This tool is designed to be user-friendly and does not require any prior experience in animation or video production to start using it.
Canva – A Brief Overview
Canva is a web app that allows you to create a wide range of designs, including social media posts, presentations, posters, flyers, logos, websites and more.
It has a clean and user-friendly interface which allows you to navigate the tools easily.
It offers a variety of templates, images, and design elements to help you create professional-looking designs even if you don't have any prior design experience.
Canva also has many features that enable you to customize your designs and create unique ones that reflect your brand's style and messaging.
One of the most powerful features of this easy-to-use design software is its built-in collaboration feature.
It enables teams to work together on a design project in real-time, making it a popular choice for businesses and organizations of all sizes.
A Brief Comparison
Viddyoze is specialized in making just videos and animation using AI technology, while Canva is a more general all-in-one tool.
Viddyoze offers customizable templates that are specifically designed for making videos, animations, logos animations, intro, outros, etc.
It also provides a large library of audio tracks and sound effects to help you enhance the quality of your videos and animations. Viddyoze focuses mostly on videos for businesses.
On the contrary, Canva offers a broader range of both design and video templates that can be used for a variety of purposes.
You can use them to create social media posts, presentations, posters, brochures, videos, websites and more.
This tool provides a wide range of stock images, icons, graphics, and other design elements that can be customized to suit your needs.
1. Basic Features
Viddyoze is an AI-powered tool which focuses on making videos and animations fast and easily.
The AI technology of this software enables you to create storyboards and compose music of any length.
It also helps you quickly find and assign the right assets for your project.
The AI will automatically create animated videos as well for you in a few minutes.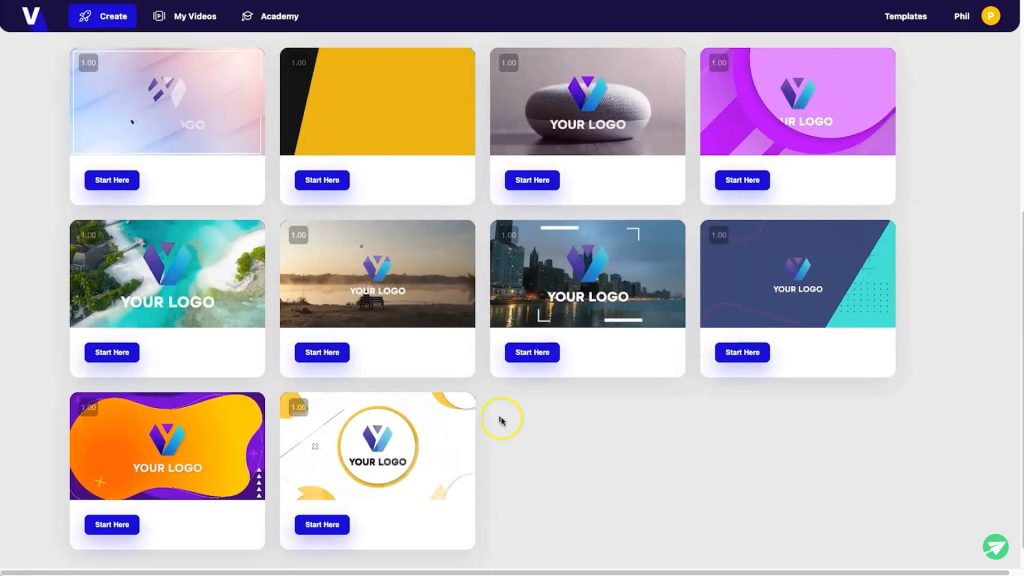 Here are some key features of Viddyoze
Brand Library
You can add your brand name, logo, color palette, products, testimonials, contact information, imagery, etc. and use them in creating videos using its AI. 
Auto-Populate
Viddyoze can pull in all your testimonials directly into your brand library from your business website.
Colours
It allows you to easily adjust the color palette to match your brand's color and identity.
Text & Fonts
You can change fonts and text however you want and make it sync with your brand identity.
Scenes & Animations
If the Ai generated video scenes don't match your requirement, you can simply remove or change them however you want.
Create From Scratch
You also have the option to create from scratch and make the video totally unique from the templates provided.
On the other hand, Canva is an all-in-one design software trying to solve all the problems related to graphic design.
It can create various other things than just videos; however, its strongest tool is not the videos making tool. It's best for graphic designing.
It makes creating designs, videos, websites and more so much easier.
Even if you're not a fan of starting from scratch, its massive library of pre-made templates lets you create beautiful desings.
Some features that make Canva stand out are
All-in-one design solution
You can create videos using Canva's pre-made templates and also design almost anything related to graphics.
Ready-made templates
Canva has a massive library of ready-made design templates that will make your designs look super professional. It has templates for almost everything you can think of.
Invite your team
You can invite people or your team to manage your brand assets, brainstorm, get approvals and more.
Team collaboration
Its all-in-one team collaboration feature lets you collaborate and work with your team in real-time. You'll have access to team folders that will help you stay organized, store brand assets, and manage content. You can also plan, create, schedule and publish your social media posts straight from Canva.
Winner
It depends on your needs and requirements to decide which one is the winner. But because of its larger number of features and better template designs, I'll make Canva the winner for this section.
2. Ease of Use
Viddyoze and Canva are both equally effortless to use.
They have interfaces that are simple, clean, and easy to navigate, which makes them easy to use.
You can start using both these tools with just some basic knowledge.
Now let's talk about Viddyoze's user interface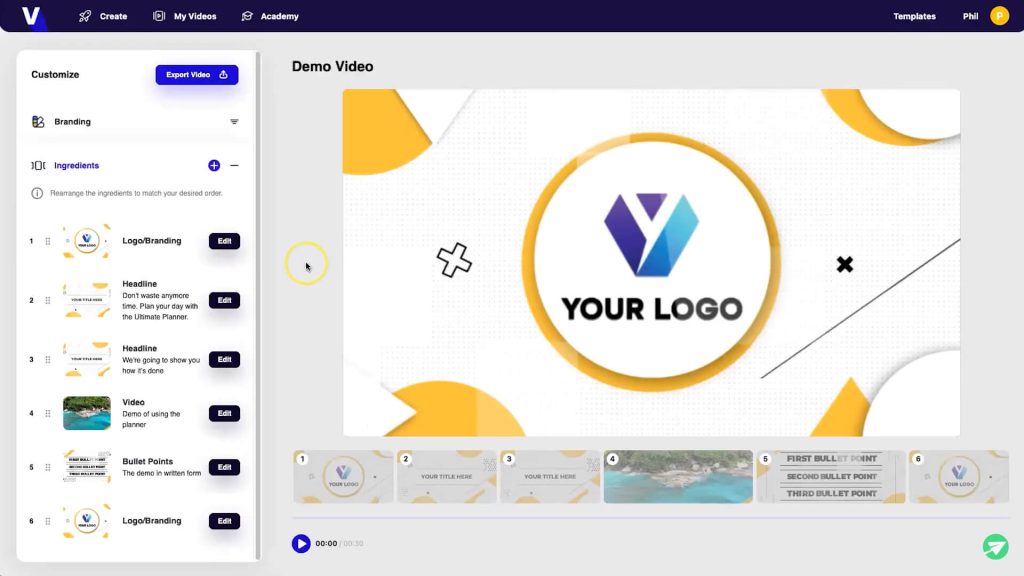 Because I have a design background, Viddyoze's user interface is less appealing and professional compared to Canva's.
The biggest section of the interface on the right side of the screen is the canvas, where you'll see all the designs and elements you add.
This section is where your design will be placed.
At the bottom of the canvas, the timeline is placed horizontally. This makes video trimming and editing easy and convenient.
The left corner of the interface has the toolbar placed vertically. All the necessary tools are placed here with icons and the name of the tools.
And the export button is placed on the top right of the toolbar.
The interface of Canva is somewhat similar to Viddyoze's, but it looks more appealing and professional.
The canvas is on the right side, covering the maximum part of the screen.
The timeline is placed horizontally at the bottom of the canvas. This gives you the option to scroll through all the footage that you have added to your video.
Toolbar is placed vertically on the left side of the canvas, where all the essential tools are placed with their respective names.
Winner
This section will be a tie because both the two softwares are equally uncomplicated and easy to use.
3. Tutorials
Viddeoyze have listed more than 30 tutorial videos on a webpage of their website, which are divided into two categories Getting started and Tutorials & Tech Helps
You will find answers and solutions to almost all the software-related queries and problems here.
They also have an informative blog, where they share articles and tutorials about videos, marketing, business, education, and more.
They share articles about templates, animations, video dimensions, setting up a brand, etc. as well.
Canva also has a dedicated section on its website called Design School.
It offers hundreds of tutorials on how to design using Canva's existing templates, design trends, color combinations, typography and more.
They offer free courses on branding, typography, graphic designing, logo designing and various other courses through their website.
They invest a lot of effort in teaching and educating people about design and their tools.
They also have a dedicated blog to share articles related to design, branding, business, education, marketing, etc.
Canva has its own YouTube channel where they share all the updates, tips & tricks, short tutorials, etc., about design and its product.
Winner
Since Canva has more resources and content related to designs and its tool, it's clearly the winner on this part. Viddyoze has a decent amount of tutorials and resources out there, but Canva is crushing on this.
4. Pricing
Viddyoze pricing structure is straightforward.
It has only 2 packages called Individual Plan and Commercial Plan.
The Individual package costs $97, and the Commercial Plan costs $127.
The best part about Viddyoze's pricing structure is that they're all one-time payments.
This means that you get lifetime access to the software by paying these prices just once.
You don't have to pay every month like Canva.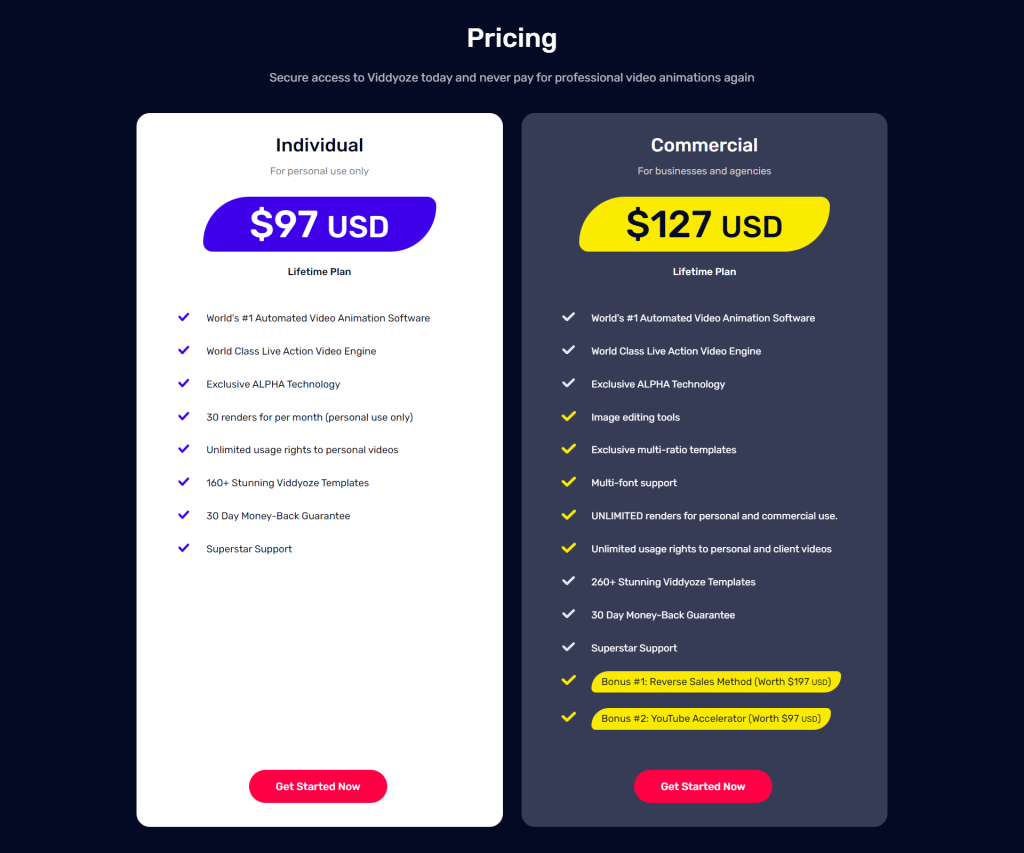 Canva's pricing plans include Canva Free, Canva Pro, and Canva for Teams.
Canva free plan gives you access to the platform and thousands of pre-built templates and assets. Because it's free, it comes with some limitations, unfortunately.
Canva Pro is $12.99 per month, which sums up to $155.88 a year.
That means you save 16% if you make the full payment of a year at once instead of a monthly subscription.
The more advanced version, Canva for Teams, costs $14.99 a month, which sums up to $179.88 a year.
Again, you save 16% if you make the full payment for a year at once.
These paid versions of Canva give you access to all the premium templates and other assets, which gives you more freedom and creativity.
Unfortunately, unlike Viddyoze, you have to pay every month for Canva.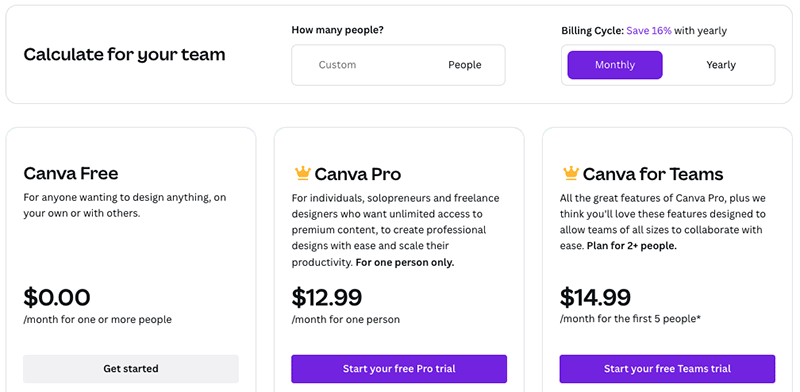 Winner
Viddyoze takes the crown in the pricing category due to its exceptional offer of lifetime access to it at a one-time payment. This means you can enjoy the tool without worrying about recurring or subscription fees, unlike Canva's monthly charges.
5. Customer Support
You might come across some questions and concerns if you are new to the video-creating world. Both Viddyoze and Canva offer extensive help resources to answer common FAQs and queries.
On Viddyoze's website, you can find a comprehensive list of frequently asked questions that cover topics like pricing plans, video editing software use, subscription-related queries, and questions regarding invoices.
If you have a question that isn't listed, its customer support team is available via email to help you out.
You can expect a response within 24 hours, which is pretty good.
Similarly, Canva's Help Center is a dedicated section on their website that covers various topics related to questions and concerns.
You'll find the solutions for almost every issue you'll get about them.
And if you still need help finding what you're looking for, there's a 24/7 email support option.
So, whether you are a Viddyoze or Canva user, you don't have to worry about any issues or concerns related to these tools.
You can just contact their customer support and get your issues resolved.
Winner
When it comes to customer support, Viddyoze and Canva are both pretty good, making it difficult to declare the winner in this category. With response times of less than 24 hours for customer inquiries, it's evident that both platforms prioritize providing exceptional customer service. Therefore, it's a tie i this category.
6. Videos and Designs Quality
Since I have a background in designing, I'm going to be a little biased on this.
Viddyoze's video and design quality are good, but they could be better.
Even though it is a powerful video and animation making tool,
the design and aesthetics of its templates and assets are not very impressive.
The design quality could be more appealing and professional.
On the other hand, Canva's video and design quality is premium. The pre-made templates and assets are appealing and professionally designed.
Here are some examples of videos made by Viddyoze and Canva…
a. Videos created in Viddyoze
b. Videos created in Canva
Winner
Clearly, the winner in this category is Canva because of it's high quality designs and asthetics. Viddyoze is a little weaker in this section comparing to Canva.
Final Thoughts
After the intense comparison between Viddyoze and Canva, it comes down to your specific needs and preferences to determine which tool is the better fit for your work.
While both of them are easy to use and ample tutorials and resources are available on their websites and YouTube, Canva wins in terms of its overall basic features.
On the other hand, Viddyoze offers a more affordable pricing structure compared to Canva.
But, when it comes to video and design quality, Canva is more appealing and professional than Viddyoze.
And the customer support's response time of both the companeis are kind of similar.
Use Viddyoze if
Your work demands only videos not still graphic images
You want a vast library of pre-made templates of videos and animations to create video content quickly.
You need a software that allows customization of colors, fonts, and logos to match brand aesthetics.
You need a range of video styles, from logos and intros to outros and calls to action.
You're on a budget and need an affordable pricing structure.
Use Canva if
You want a tool wich can create both videos and graphic images of any kind.
You need a comprehensive library of design elements, from stock photos to graphics and templates.
You want premium and professional design quality
You want to collaborate with multiple team members and need a robust collaboration and sharing feature
You need seamless integration with other marketing tools, such as social media platforms and email marketing services, to streamline your workflow and maximize efficiency.
That was the battle between the two top easy video-making softwares Viddyoze vs Canva.
Get Updates & Offers in Your Inbox
Stay updated with the latest tools and software. We don't spam.
You can also check out these comparisons and reviews
Let me know what you think about this comparison in the comment, and don't forget to subscribe to our newsletter to stay updated about new tools and updates.
Happy Creating!