Last Updated on March 29, 2023 by Shane
Video content has become an essential component of marketing strategies for businesses across industries.
However, creating high-quality videos can be a costly and time-consuming process, requiring expensive equipment, studios, actors, and extensive editing.
This is where AI-powered realistic video avatar generators like the ones below come into play.
Over the past few years, artificial intelligence (AI) has advanced tremendously, enabling the creation of many advanced things, and realistic avatars are one of them.
With AI avatar video generators becoming more advanced, realistic and lifelike avatars can be created quickly and efficiently.
In this article, I'll explore 11 of the most impressive AI avatar video generators available, highlighting their unique features and uses.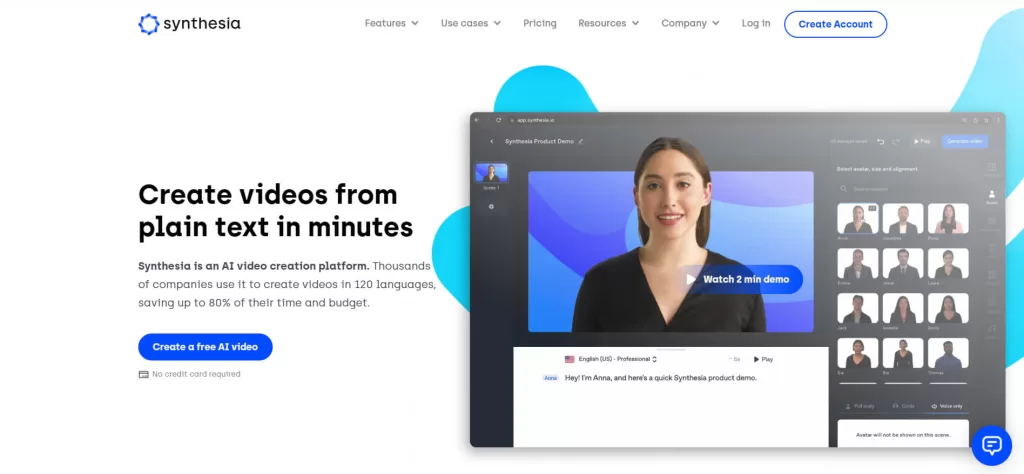 Synthesia is a cutting-edge video creation tool founded in 2017 by a team of AI researchers and entrepreneurs from top universities, including UCL, Stanford, TUM, and Cambridge.
The platform aims to democratize the process of content creation and empower everyone to create engaging video content without any prior experience or expensive equipment.
What sets Synthesia apart from traditional video creation tools is its use of AI-generated avatars that act as presenters in your videos.
With access to over 85 diverse AI avatars, you can choose the perfect presenter to represent your brand.
Additionally, you can create custom AI avatars that align with your brand's specific needs.
Synthesia also offers professional voiceovers in over 120 languages and accents, providing you with the ability to add high-quality audio to their videos without any expensive equipment or the need to hire voice actors.
The platform's templates are fully customizable and include over 55 pre-designed options to ensure consistent branding across all videos.
You can easily upload their brand identity assets and create custom templates that meet their specific needs.
Editing and updating videos is effortless with Synthesia, and the platform's intuitive interface requires no prior knowledge of video editing or extensive training, making it accessible to anyone.
Pricing
Basic: $30/month billed monthly
Enterprise: You can talk to them and customize however you want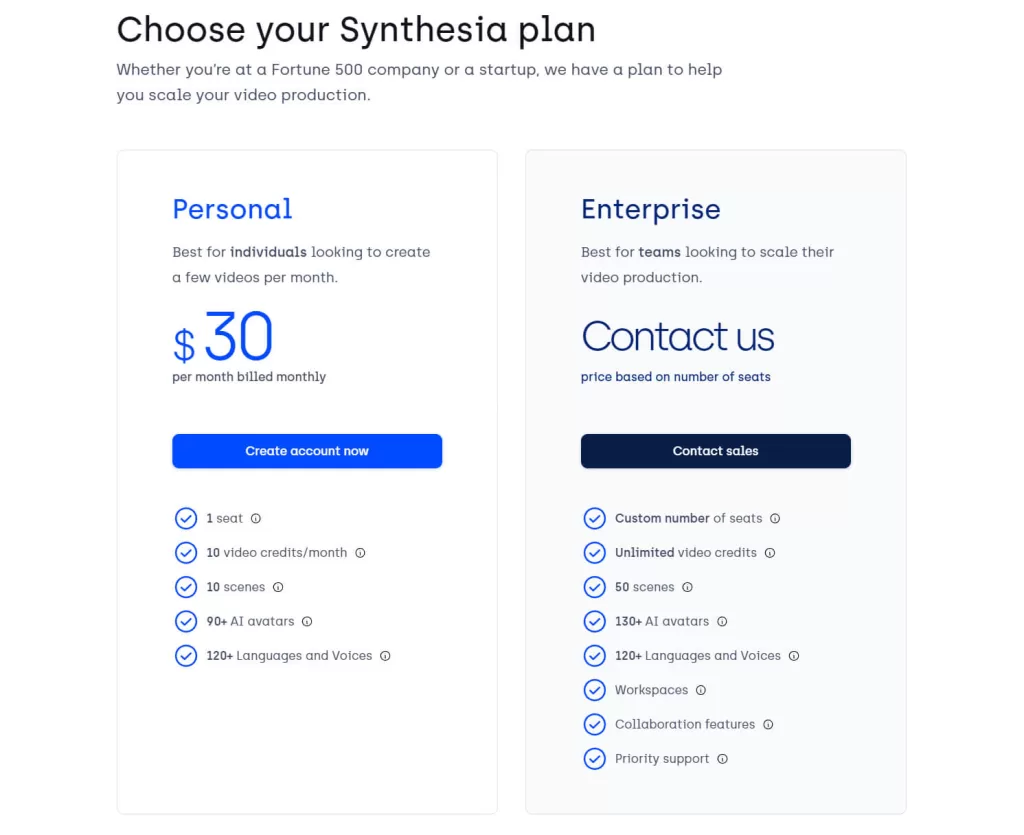 In conclusion, Synthesia is a revolutionary AI-powered video generator that offers an accessible and cost-effective solution for creating engaging video content.
Its use of AI-generated avatars and professional voiceovers, combined with customizable templates and an easy-to-use interface, makes it an excellent tool for businesses and content creators alike.
With Synthesia, you can create professional-quality videos that engage and connect with your audience without breaking the bank or requiring extensive expertise.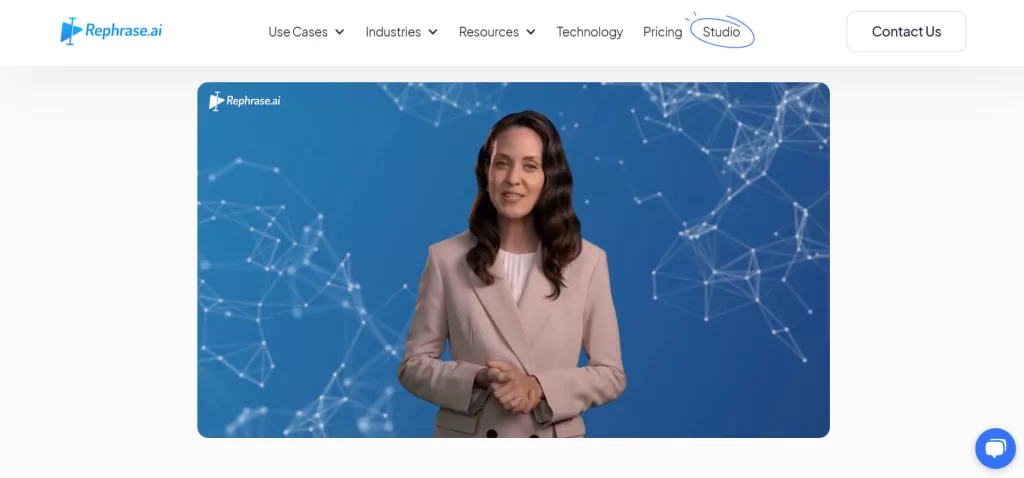 Rephrase.ai is a powerful tool that utilizes AI technology to create personalized videos for businesses.
Its mission is to humanize communication and create hyper-personalized, professional-quality videos that engage audiences and drive business metrics.
Its cutting-edge AI technology allows you to convert plain text into professional-quality videos in just a matter of minutes.
It helps your brand with creative ideas for leveraging personalized communication, as well as a 30-minute video shoot for digital avatar creation.
Once the digital avatar is ready, it generates personalized videos for you and helps you seamlessly integrate your digital avatars into various distribution channels, including API access, WhatsApp for Business bot, email, QR codes, and microsites.
Rephrase.ai also help you track the tangible impact of your campaign after delivering personalized videos, allowing you to increase conversions across the sales funnel and redefine your customer journey to make them high-conversion and video-first.
With hyper-personalization, you can supercharge marketing campaigns by creating digital avatars of brand ambassadors and creating personalized ad campaigns for your customers.
You can also build stronger stakeholder relations with personalized communication by effectively communicating with internal and external stakeholders using personalized video messages.
Pricing
Personal: $25/month billed monthly
Enterprise: You can talk to them and customize however you want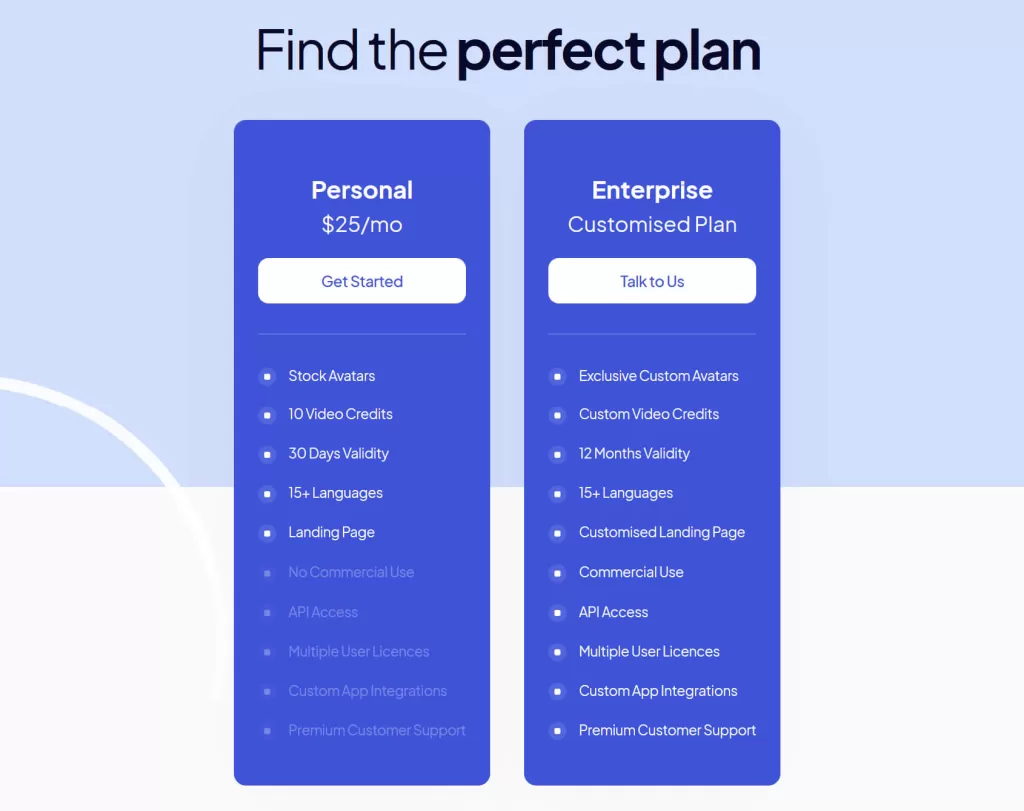 In short, Rephrase.ai is a revolutionary platform that empowers businesses to communicate in a more engaging and personalized way, driving business metrics and building stronger relationships with stakeholders.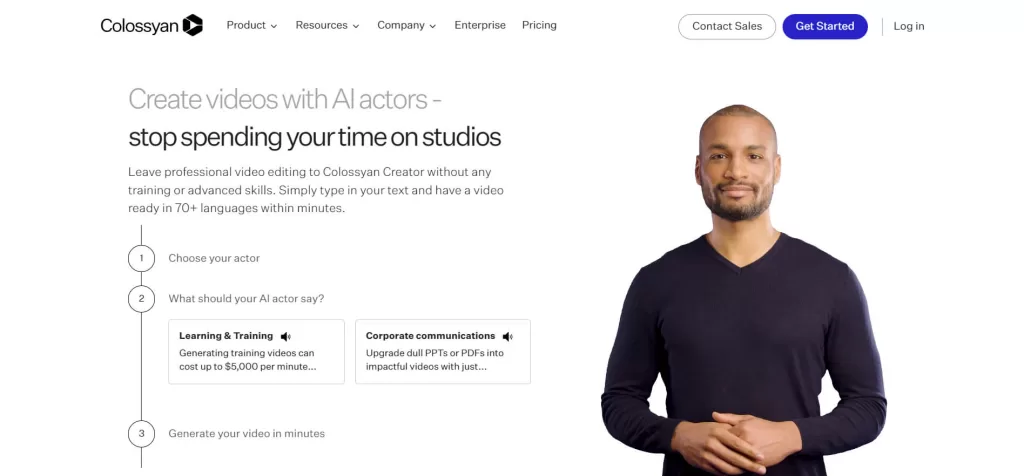 Colossyn was created to address the challenges of time-consuming video production.
The realistic AI avatar video generator is designed to enable businesses of all sizes to create and localize videos in minutes, which previously would have taken months to complete.
With Colossyn, you can create videos with AI actors, eliminating the need to spend time and money on studios.
The avatar generator's Colossyn Creator feature allows you to leave professional video editing to the AI, without requiring any advanced skills or training.
Simply input your text, and you'll have a video ready in over 70 languages within minutes.
One of the great things about Colossyn is its versatility.
For managers, it can convert dull PPTs and PDF reports into videos to increase retention and deliver information more effectively to your audience, taking internal communication to the next level.
Educators can use it to generate videos to educate, train, and onboard staff, delivering even complicated instructions with efficiency and increased engagement.
And creators can personalize and create sales, marketing, and explainer videos that connect, convey, and convert on social media, websites, and beyond.
Another standout feature of Colossyn is its selection of commercially available synthetic AI presenters, which you can pick from to connect with your audience.
Additionally, the platform's custom subtitle feature allows you to create crystal-clear captioning in seconds, increasing engagement by up to 40%.
Colossyn also offers tons of customization options, including adding media and selecting different accents, enabling you to personalize videos to connect with your audience.
Plus, you can create AI videos in over 60 languages and 50 different avatars, ensuring that your messages hit harder in your audience's native tongue.
Using Colossyn Creator is incredibly easy.
Simply choose an actor from the platform's international selection, input your script for them to read (which is supported in over 60 languages and accents), and watch as the platform generates your video in just a few minutes.
Pricing
Free: Very limited or the experiment with creating videos using texts
Basic: $30/month if you pay monthly and $21/month if you pay annually
Pro: $100/month if you pay monthly and $70/month if you pay annually
Enterprise: You get all the features of Pro. You can also talk to them and customize however you want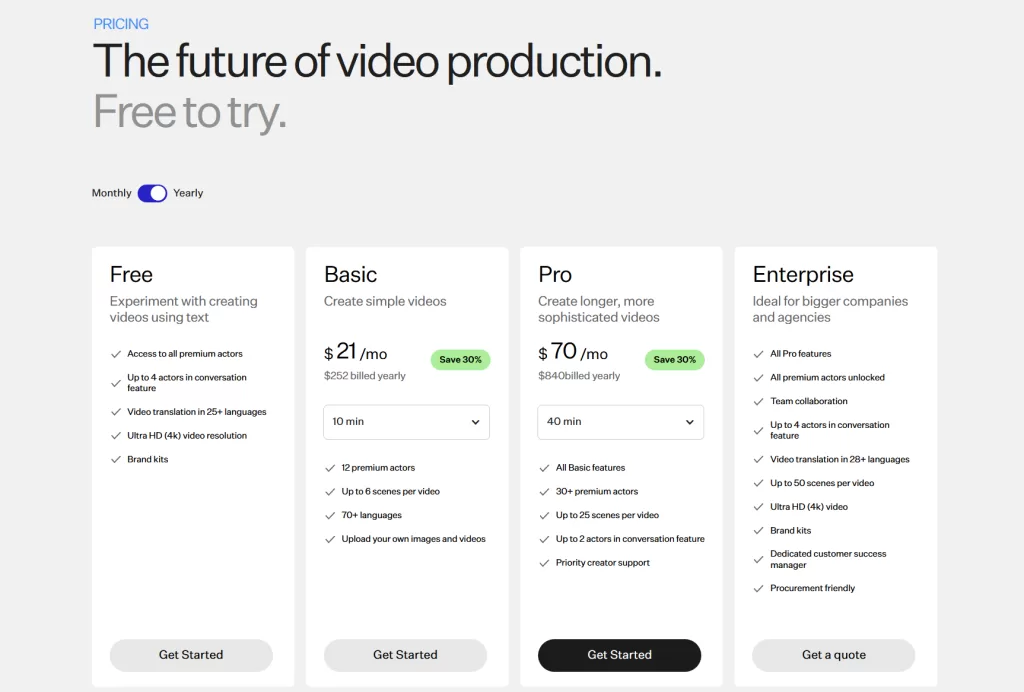 In summary, Colossyn is an AI-powered video creation platform that makes it easy and affordable for businesses and creators to create high-quality videos in minutes.
With its selection of synthetic AI presenters, custom subtitle feature, and tons of customization options, the platform offers a versatile and efficient way to connect with your audience and convey your message effectively.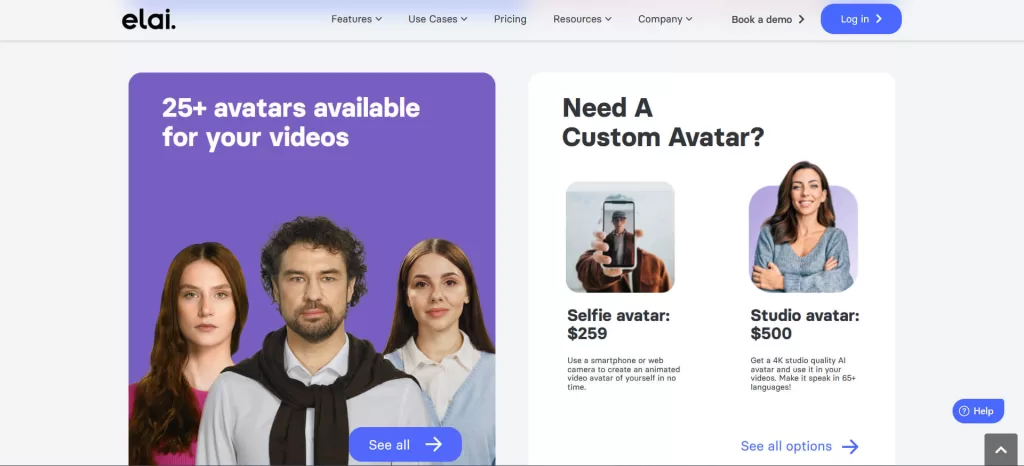 As an AI-powered video creation platform, Elai.io is a deep-tech startup company with a global team of AI technology enthusiasts.
This AI avatar video generator offers a hassle-free way to generate AI videos with realistic human avatars from just text.
With over 25 avatars available, you can build customized AI videos in minutes without needing a camera, studio, or green screen.
They offer two options for custom avatars:
A selfie avatar for $259, where you can create an animated video avatar of yourself using a smartphone or web camera.
A studio avatar for $500, where you can get a 4K studio quality AI avatar that can speak 65+ languages.
One of the unique features of our platform is the Article-to-Video Converter, which is specifically designed for marketing and SEO teams.
With just a blog post link, our platform can transform the article into a narrated video presentation with a human presenter.
Elai.io offers several use cases, including learning and development, where you can create training videos in 60+ languages without actors, voiceovers, or post-production.
They also offer marketing videos to give businesses the marketing push they need with compelling product videos powered by AI.
At Elai.io, we take pride in offering a unique platform with several features that set us apart from our competitors.
For instance, our platform allows you to translate their content into 65+ languages without needing a localization crew. We also offer voice cloning for deep customization and a wow effect.
With our Descript Overdub integration, you can clone their voice and narrate any video using Elai. You only need to provide 30 minutes of voice recording to ensure top-quality audio for each video.
The cloned voice will be available exclusively to the user and work just like every text-to-speech Elai voice.
Pricing
Free: You get 1 minute of free credit.
Basic: $29/month if you pay monthly and $23/month if you pay annually
Advanced: $99/month if you pay monthly and $80/month if you pay annually
Custom: You can talk to them and customize however you want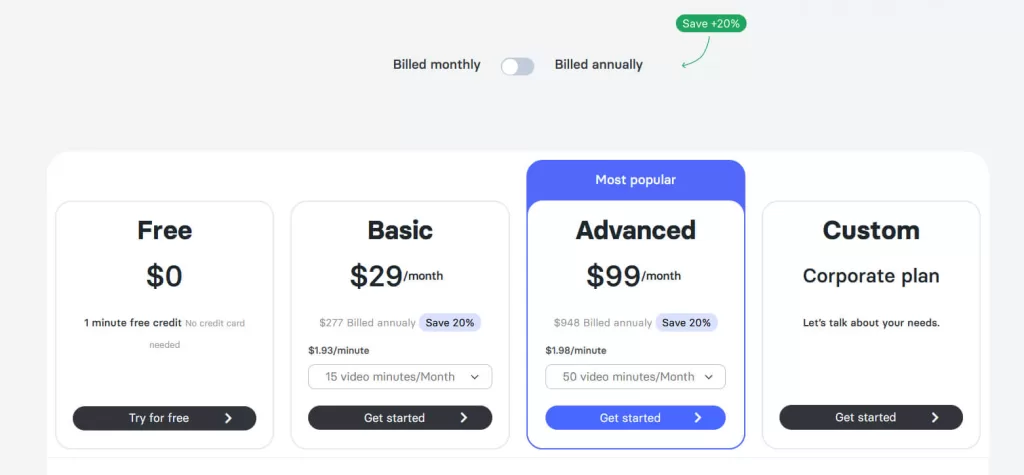 In conclusion, Elai.io is a unique AI-powered video creation platform that prioritizes its your needs, product quality, personalization, and integrity.
This tool offers several features that set us apart from our competitors, including voice cloning, article-to-video converter, and translation into 65+ languages.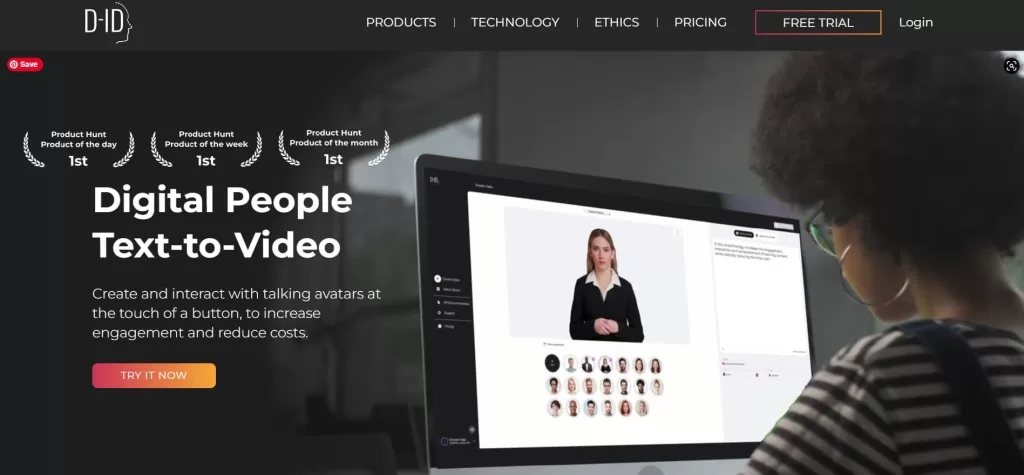 D-ID is cutting-edge tool that leverages the power of generative AI technology to transform video content for various industries.
Whether you're a marketer, a content creator, or a learning and development professional, D-ID can help you create realistic AI avatar videos at scale with ease.
It allows you to generate photorealistic digital humans from text, making video production more cost-effective and hassle-free.
Its self-service studio and API make it accessible to everyone, including Fortune 500 companies, marketing agencies, production companies, social media platforms, e-learning platforms, makers, and developers.
Founded in 2017, D-ID has quickly established itself as a leader in the industry, with backing from tier 1 VCs.
Its technology has been used to create over 110 million videos, including by top-tier clients such as Warner Brothers Pictures, Publicis, Mondelez, Skilldora, and MyHeritage.
One of D-ID's standout features is its chat.D-ID web app, which uses real-time face animation and advanced text-to-speech to create a human-like conversational AI experience.
The app lets you speak face-to-face with ChatGPT and other virtual avatars, giving a face to conversational AI.
D-ID's Creative Reality™ Studio is another powerful tool that allows you to create talking avatars with just a click of a button.
Pricing
Free: 14 days free trial, 5 minutes of video
Lite: $5.99 /month 10 minutes video
Pro: $49.99/month 15 mins video if you pay monthly and $39.99/month if you pay annually
Advanced: $299.99/month 65 mins video if you pay monthly and $249.99/month if you pay annually
Enterprise: You can talk to them and customize however you want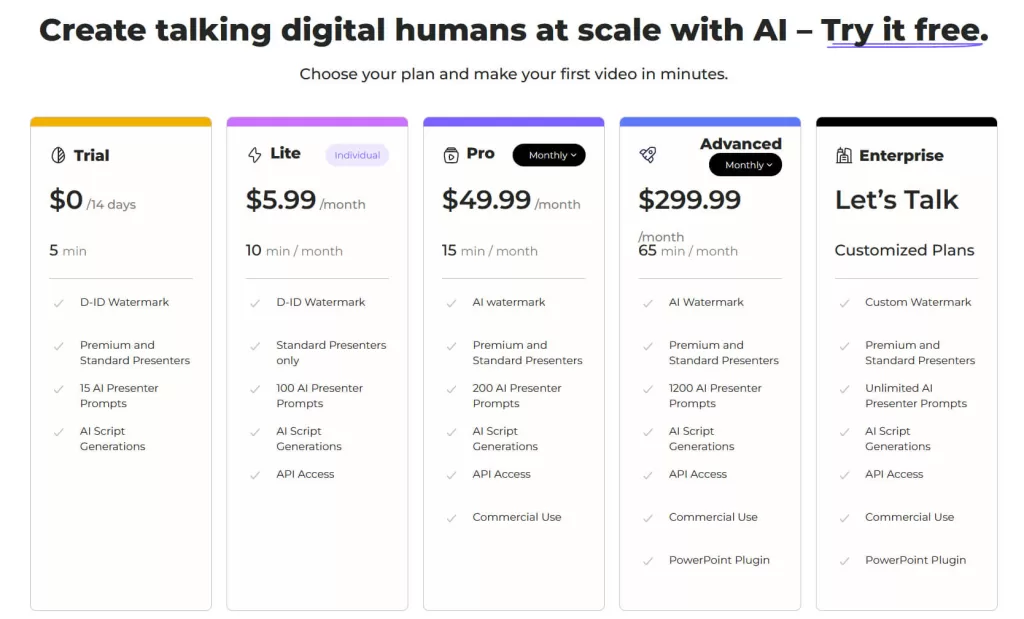 Supercharged with Stable Diffusion and GPT-3, the self-service studio lets you turn your ideas into stunning videos that are personalized, cost-effective, and engaging.
You don't need any technical knowledge to get started, and you can create videos in over 100 languages.
D-ID's Generative AI technology can transform any picture or video into an extraordinary experience. Its technology is used by creators, leading marketing agencies, production companies, and social media platforms worldwide.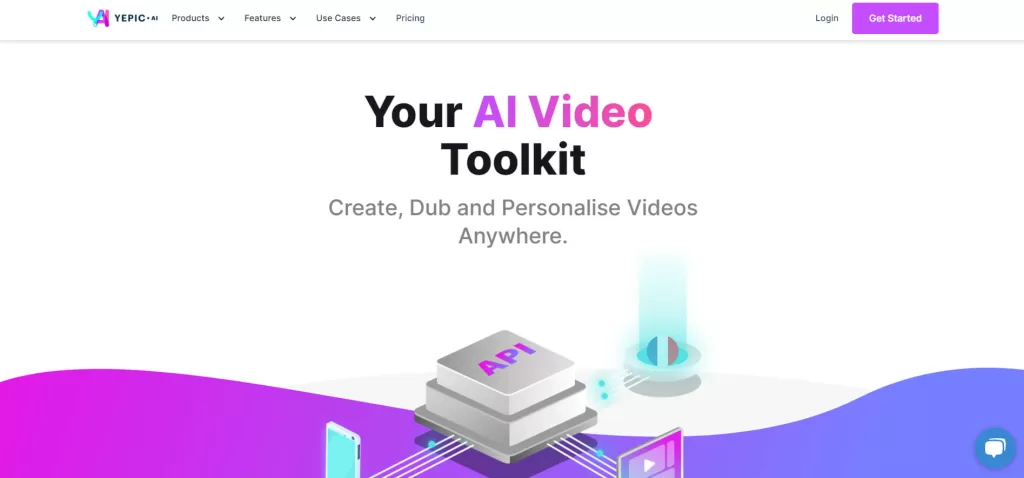 Yepic.ai is a company that aims to help people and businesses communicate more effectively through the use of personalized video content.
Their patented software is exclusively used by trusted clients and undergoes a strict screening process to ensure that all synthesized media produced by Yepic is ethical and responsible.
Yepic never reenacts someone without their consent and prohibits deep fakes and satirical impersonations for political or other purposes.
Yepic's AI Video Toolkit enables quick and easy creation and translation of talking head style videos with 40+ realistic avatars to choose from, without expensive equipment or studios.
It's an excellent solution for those who want to create training videos, advertisements, or other types of video content without breaking the bank.
Yepic's Vidvoice technology is another impressive offering that can translate videos into eight languages with flawless lip-sync, giving everyone a native experience.
Vid Voice Live can even live dub video calls into five languages in real-time, with many more planned.
With this technology, language barriers can be broken down, making communication more accessible and inclusive.
Yepic's API is another powerful tool that allows developers to build video creation and translation into any app.
It's easy to use, and the developer-friendly documentation and use-case-oriented solutions make it accessible to anyone who wants to integrate video into their product or service.
Pricing
Free: 14 day Standard free trial
Standard: $35.74 per user/month if you pay monthly and $29.56 per user/month if you pay annually
Plus: $97.35 per user/month if you pay monthly and $81.30 per user/month if you pay annually
Premium: $368.46 per user/month if you pay monthly and $306.74 per user/month if you pay annually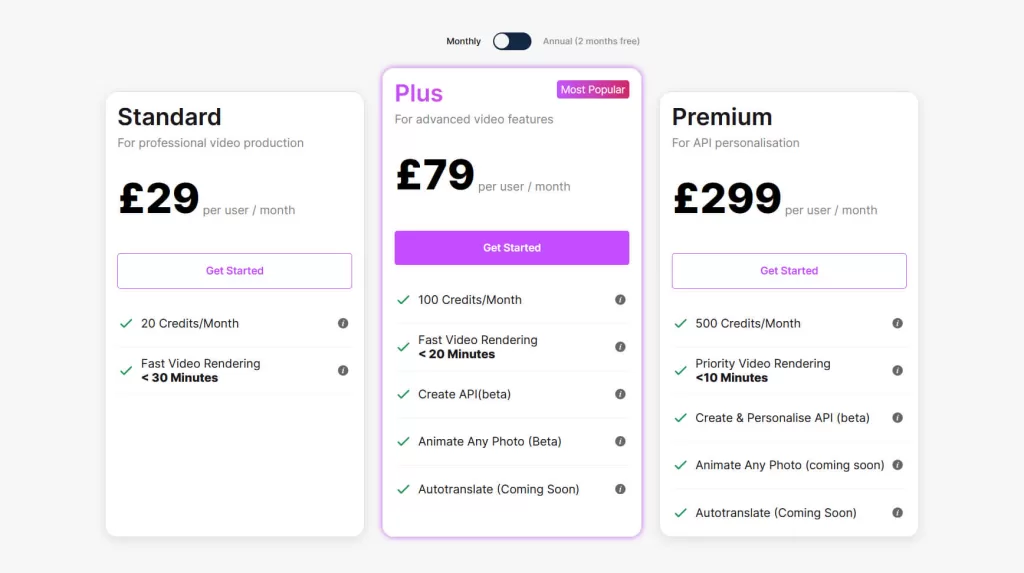 Overall, Yepic.ai is an innovative and ethical company that offers a range of powerful video solutions for businesses and individuals alike.
Their commitment to responsible AI and dedication to breaking down language barriers make them a company worth watching in the tech industry.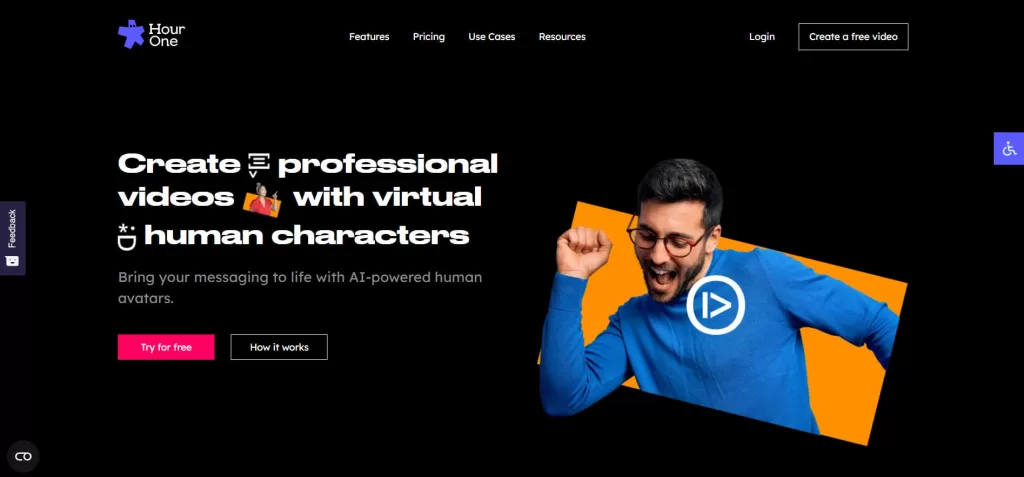 HourOne has revolutionized the video communications industry with its cutting-edge virtual humans.
These virtual characters are modelled exclusively after real people, making them the most lifelike avatars available today.
By employing natural language processing and facial recognition technology, HourOne's virtual humans can convey human-like expressiveness through text, empowering businesses to elevate their messaging with unmatched ease and scalability.
One of the company's primary offerings is the Reals platform, a self-service creators platform that enables businesses to harness HourOne's technology effortlessly, producing fully-realized videos at scale in mere minutes.
This platform offers a comprehensive suite of tools to create captivating content, including:
A languages library with over 60 different languages to choose from
A characters library with a vibrant selection of AI-powered photorealistic virtual humans
A voice library with different voices, cadences, and accents to choose from
A variety of video templates to give videos a slick and professional look
HourOne has served industry giants such as Berlitz, NBC Universal, and DreamWorks, and its reach extends across various industries, including HR, e-commerce, and SaaS.
The company has a strong presence with headquarters in Tel Aviv and New York City.
Businesses across various industries have embraced Hour One's virtual humans to deliver their video messaging.
Virtual human avatars have made product tutorials a breeze in learning and development, sped up sales training, simplified compliance, inspired employee growth, and enhanced call center skills with captivating, tailor-made, and quickly-produced video content.
In human resources, Hour One's virtual human avatars bring a fresh and personal touch to employee onboarding, improve communication with tailored video announcements, and let a brand shine with easy-to-create, polished video content.
Finally, in 3D news, virtual human newscasters transform the way news is delivered and redefine a brand's presence in the media landscape.
Pricing
Free: Up to 3 minutes of published videos
Lite: $30 per member/month if you pay monthly and $25 per member/month if you pay annually
Business: $235 per member/month if you pay monthly and $199 per member/month if you pay annually
Enterprise: You can talk to them and customize however you want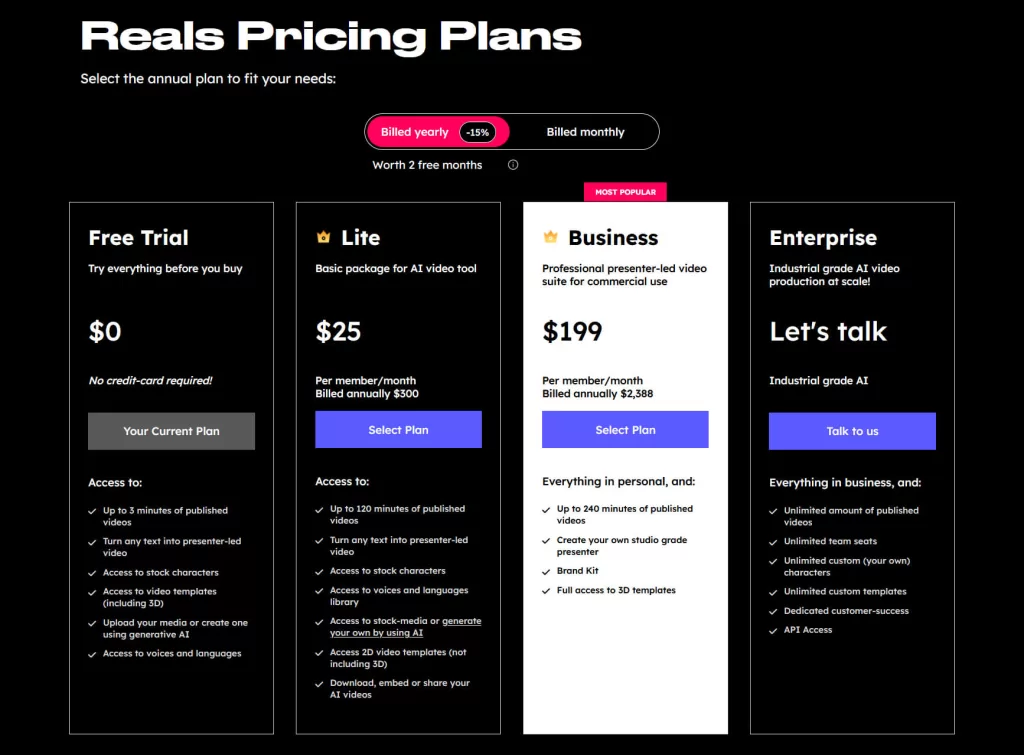 In conclusion, HourOne is an industry leader in crafting virtual humans for professional video communications, and its Reals platform offers businesses the fastest way to publish human-led videos.
With HourOne, businesses can create unique and memorable experiences for their team and future talent, and captivate their audience with their very own AI-powered anchors in multiple languages.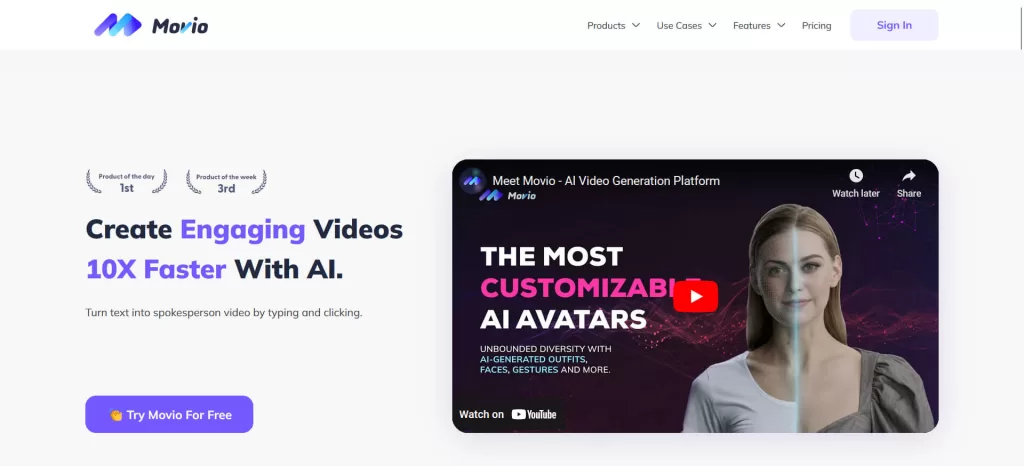 Creating engaging videos that effectively convey your message is crucial in today's digital age.
However, not everyone has the skills or time to create professional-quality videos. That's where Movio comes in.
Movio is an innovative AI-powered video creation tool that transforms your text into a spokesperson video in minutes.
Unlike other video creation tools, Movio offers real human avatars that lip-sync with the language you choose, giving your video a realistic touch.
Using Movio is simple and easy, and requires no editing skills.
All you have to do is select a character from the 100+ AI avatars available or create your own, type your script in one of the 40+ languages with diverse accents, and hit submit.
The tool does the rest for you, generating a professional-quality video in no time.
Movio is highly customizable, with 300+ templates to choose from, different fonts and images, and the ability to upload your own background music.
This makes it perfect for creating engaging videos for marketing, sales, training, e-learning, and more.
Another great feature of Movio is its ability to share videos easily with colleagues or clients.
Your videos come in 1080P with unlimited downloads, making it a cost-effective solution for your video creation needs.
Pricing
Free: You get 1 minute of free credit
Essential: $30/month 10 minutes credit if you pay monthly and $24/month if you pay annually. You can buy more minutes credit.
Pro: $225/month if you pay monthly and $180/month if you pay annually. You can buy more minutes credit.
Enterprise: You can talk to them and customize however you want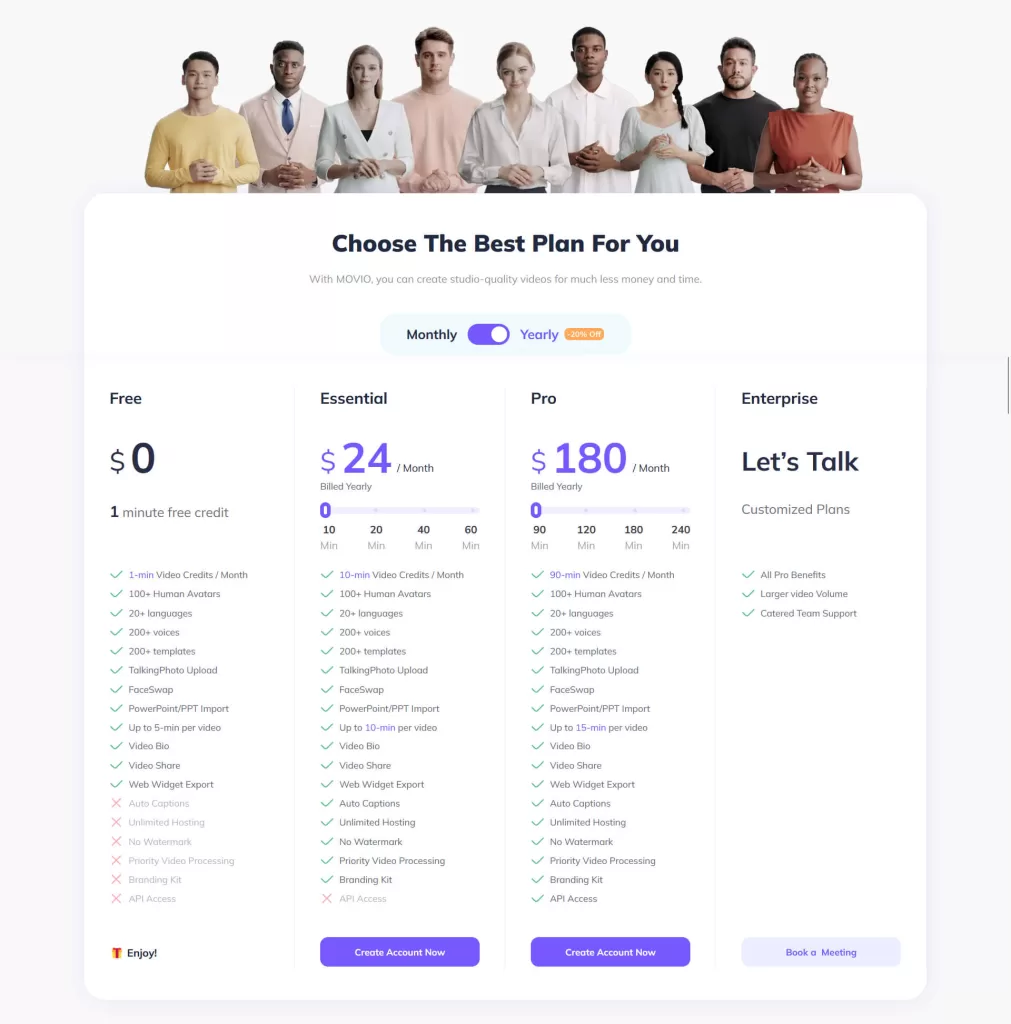 In conclusion, Movio is an excellent tool for those looking to create professional-quality videos without the need for editing skills.
It's customizable, easy to use, and perfect for a range of professional uses.
With Movio, you can transform your text into engaging spokesperson videos in just minutes.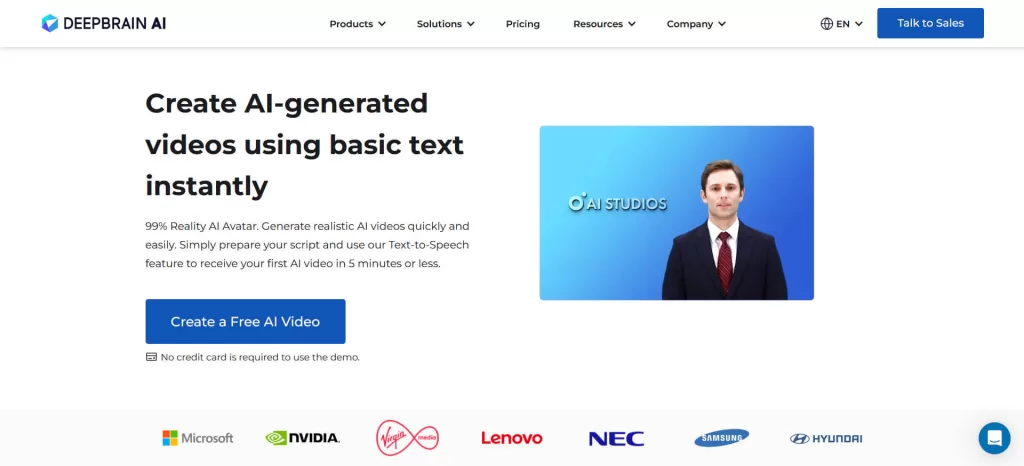 DeepBrain AI is an innovative company that specializes in creating state-of-the-art artificial intelligence technology to accelerate business growth.
They develop human-focused AI that is designed to assist people in focusing on their personal capabilities, rather than replacing them.
One of the impressive tools that DeepBrain AI offers is their AI video generator.
This tool allows you to create hyper-realistic AI videos quickly and easily using basic text.
You simply need to prepare your script and use their Text-to-Speech feature to receive your first AI video in just five minutes or less.
The benefits of using the AI video generator are numerous.
Firstly, you can use a custom-made AI avatar that best fits your brand.
Additionally, the tool is intuitive and super easy to use, making it ideal for beginners.
Not to mention, it saves a significant amount of time and money in the video production process, as it eliminates the need for filming and editing.
DeepBrain AI's video generator is perfect for creating training videos, how-to videos, marketing videos, explainer videos, news videos, and even social media videos for platforms like YouTube, TikTok, and Instagram.
The tool is incredibly flexible and supports multi-language text-to-speech in over 55 languages.
In addition to the video generator, DeepBrain AI also offers a diverse cast of over 100 fully licensed AI avatars that are ready to support your video productions.
These avatars are perfect for creating custom avatars for celebrities, politicians, brand ambassadors, news anchors, and sports figures.
What's more, DeepBrain AI's AI avatars are always ready to listen and answer questions with their AI chatbots.
Whether it's within a mobile app, web browser, kiosk, or deep inside the metaverse, their conversational AI avatars can meet your customers where they are.
Pricing
Free: You get 1 minute video for free
Starter: $29/month 20 minutes video credits per month
Custom: You can talk to them and customize however you want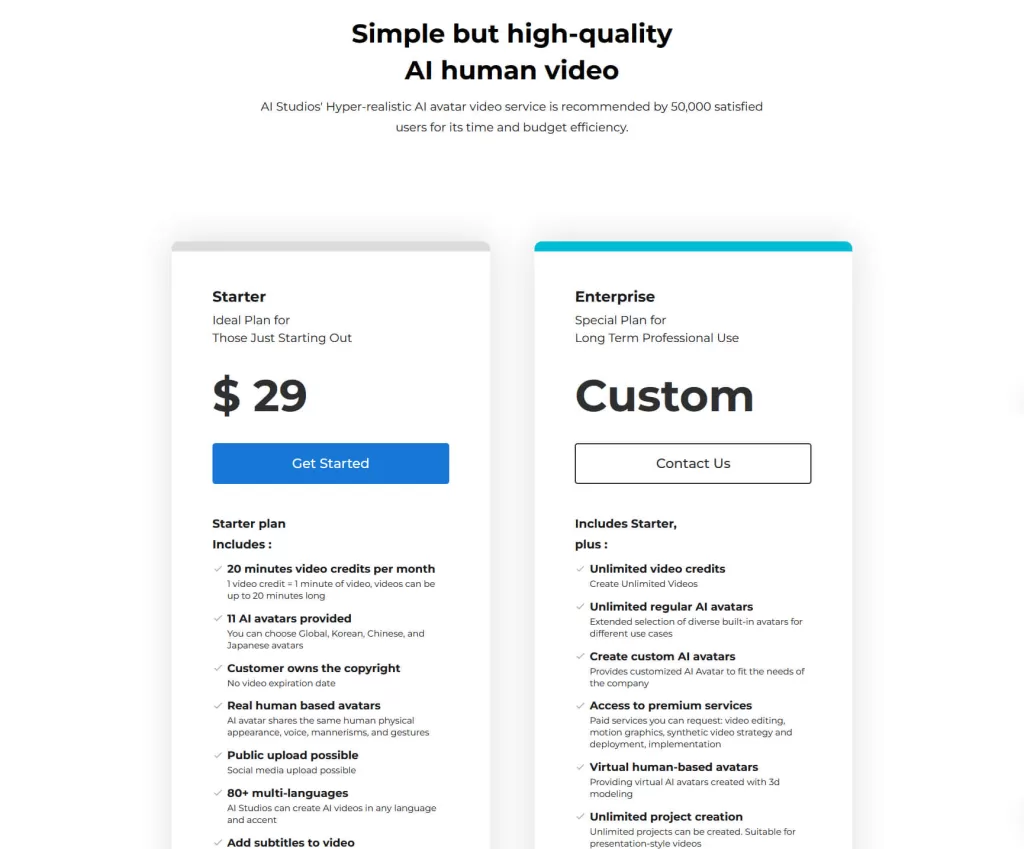 Overall, DeepBrain AI is an innovative and forward-thinking company that is advancing the world with artificial intelligence.
They are creating cutting-edge technology that is designed to assist people in focusing on their strengths and expertising their personal capabilities.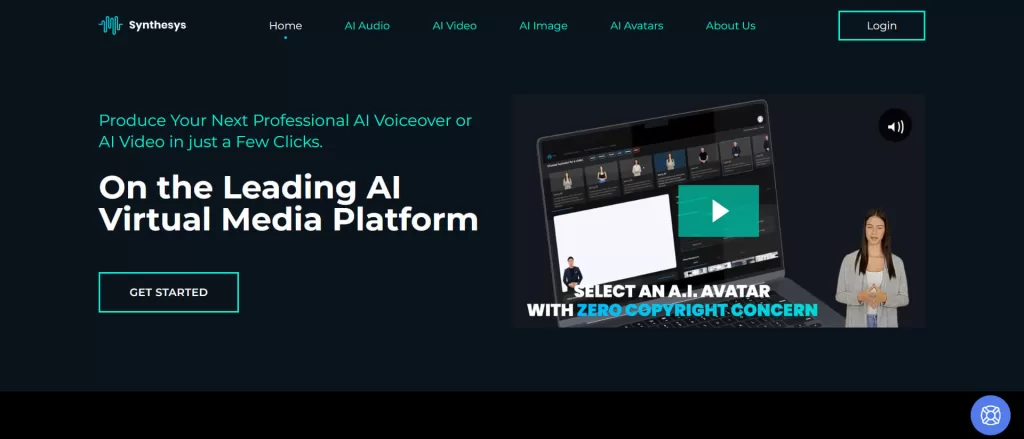 Synthesys is a unique and powerful platform that offers both text-to-speech and text-to-video capabilities.
It was created by a team of experienced voice and video actors, as well as linguistic and AI professionals, who recognized the need for an on-demand TTS and TTV production platform.
One of the standout features of Synthesys is its extensive library of avatars and voices, which includes real gestures, accents, tones, and delivery styles.
This enables you to create high-quality and engaging content, whether it's for e-training, social and digital marketing, branding, entertainment, or any other purpose.
The platform is cloud-based, so there's no need to install or update any programs.
It also offers affordable pricing packages for everyone, from occasional users to global enterprises.
With its 70 different avatars, you can easily produce professional AI voiceovers or AI avatar videos with just a few clicks.
The AI virtual avatars sound, look, talk, and act just like their human counterparts when reading your script, making them a powerful tool for enhancing your digital content.
Whether you're looking to create voiceovers, videos, or both, Synthesys has got you covered.
Its AI voice generator uses natural, clear voices that bring authority and trust to your message, while its AI video generator makes it easy to create videos with your own unique virtual spokesperson.
Pricing
Free: 7-day money back guarantee
Audio Synthesys: Only for audio. $35/month if you pay monthly and $27/month if you pay annually
Human Studio Synthesys: Only for video. $45/month if you pay monthly and $36/month if you pay annually
Audio and Human Studio Synthesys: Both audio and video $65/month if you pay monthly and $52/month if you pay annually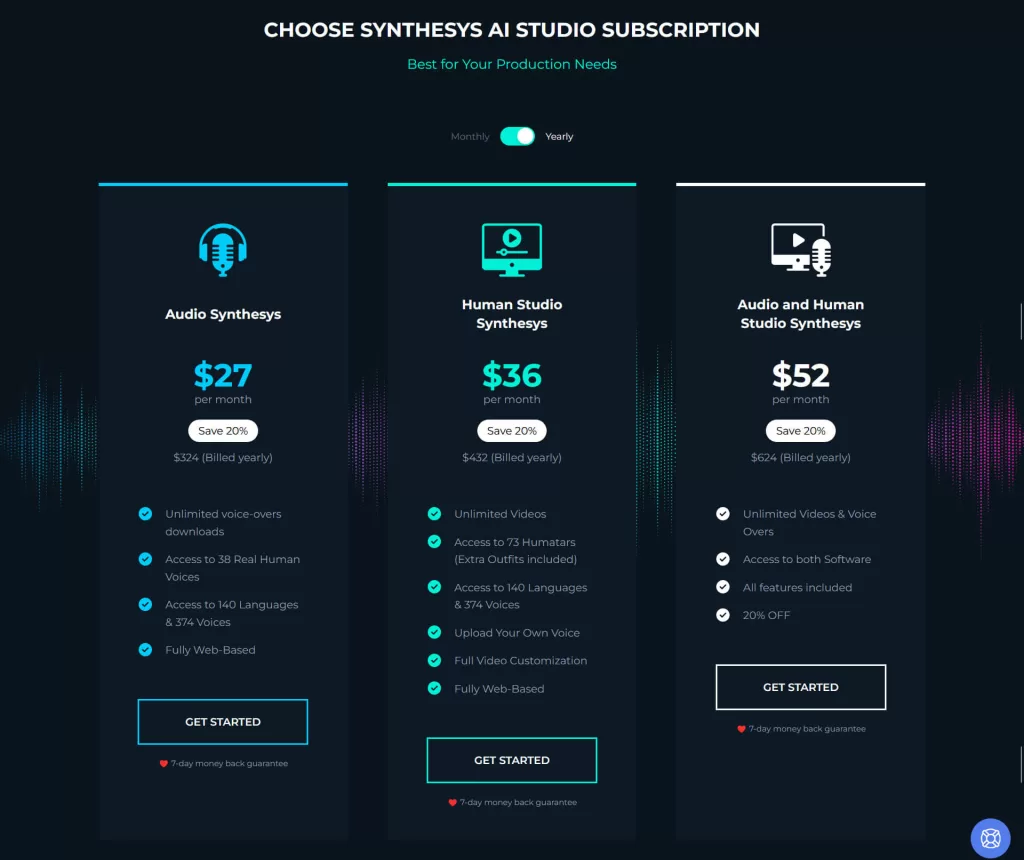 Overall, Synthesys is a great tool for enhancing your digital content, whether you're creating explainer videos, gaming content, audio website confirmations, training videos, social media stories, presentations, audiobooks, and much more.
It's used by thousands of marketers around the world, and it's easy to see why!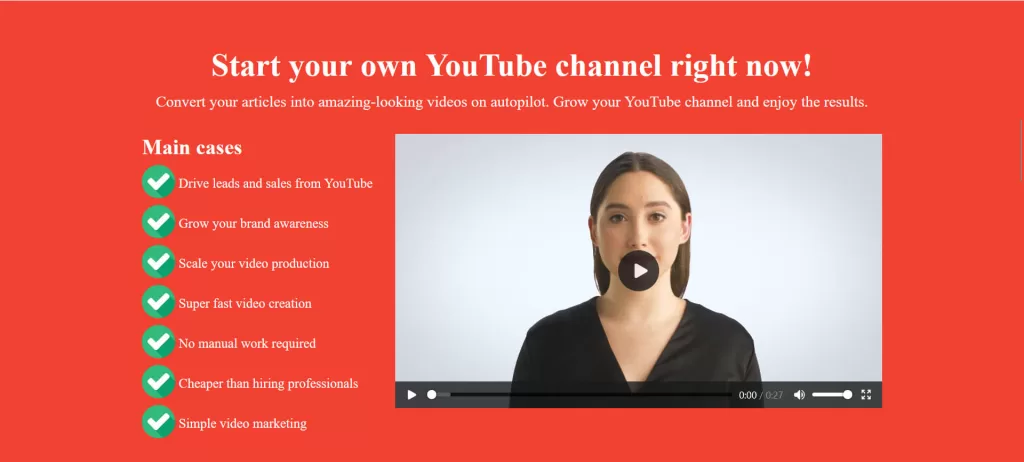 Synths Video is a revolutionary tool that can help streamline your YouTube marketing efforts.
This realistic AI avatar video generator automatically generates high-quality videos with human avatars and voiceovers from your blog articles.
And the best part is that there is no need for manual work!
The primary aim of Synths Video is to assist all types of websites in driving traffic and leads from YouTube while creating a distinct distribution channel for their content.
It is also noteworthy that Synths Video is YouTube certified, which guarantees that the app is entirely secure and that there are no verification steps to worry about.
Furthermore, the app has an integrated feature that allows videos to be auto-uploaded to your YouTube channel.
Creating a video from your blog post is as simple as clicking a button with Synths Video.
This is an enormous time and money saver compared to hiring a video production team.
Additionally, Synths Video allows you to create a custom brand avatar once and produce new content without filming.
Synths Video is the perfect tool for all types of websites, including news websites and affiliate websites.
With an RSS feed, Synths Video will transform all of your news into YouTube videos, while affiliate websites can create high-quality videos based on their blog posts to boost sales.
One of the primary features of Synths Video is the ability to generate a video from article content.
With over 40 ready-to-use human avatars and support for 40 different languages, you can create videos that will appeal to a global audience.
Moreover, if you want to add your custom avatar, you can do so effortlessly.
Pricing
Free: You get 1 minute of free credit.
YouTube Start: $399/month. You get 10 videos.
The second plan costs $800/month, where you get 20 videos.
$1100/m for 30 videos, $1400/m for 40 videos, $1700/m for 50 videos, $2000/m for 60 videos, $1300/m for 70 videos, $2600/m for 80 videos, $2900/m for 90 videos, and $3200/m for 100 videos.
You can contact them and talk if you want more than 100 videos.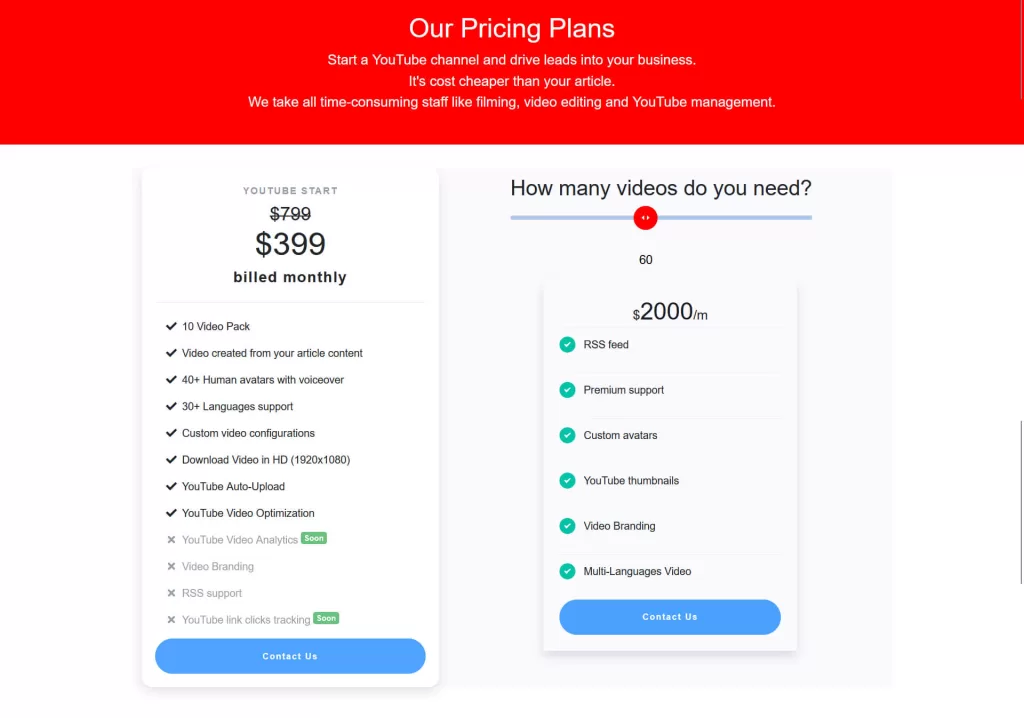 Overall, Synths Video is an invaluable tool that can help you save time and money while creating professional-looking videos for your YouTube channel.
Final Words
The creation of AI-generated avatars has started to revolutionize video content creation.
These AI algorithms have become increasingly sophisticated, allowing for the creation of avatars that are incredibly lifelike and realistic.
By utilizing these generators, video content can be produced quickly, effectively, and cost-efficiently, providing an exciting new avenue for businesses and individuals.
With AI technology continuing to evolve at a rapid pace, we can expect even more exciting and innovative applications for these generators in the future.
Lights, Camera, Action! Join Our Video Tribe.
Stay updated with the latest tools and updates. We don't spam.
That's a wrap of this epic battle Glorify vs Canva. Get the right tool and keep creating.
If you are interested in animated videos for businesses, then you should check out this long list of the best animated marketing videos I have curated, "79 Best Examples of Animated Marketing Videos".
You can also check out these comparisons and reviews
Let me know what you think about this comparison in the comment, and don't forget to subscribe to our newsletter to stay updated about new tools and updates.
Happy Creating!